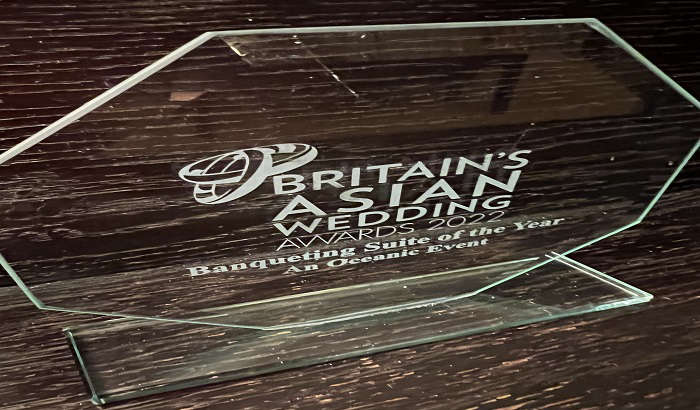 Winners are now revealed for the Britain's Asian Wedding Awards 2022 Chapter 2, following the stunning awards ceremony on Thursday 12th May 2022 at Holiday Inn Bolton Centre.
The UK Asian wedding industry has grown at an unprecedented rate in recent years and suppliers have exceeded all expectations in what they're able to deliver to make a couple's wedding day the best in their lives.
The Oceanic events organised award ceremony was held to celebrate those who service Britain's ever-growing Asian wedding industry. It rewarded the graft of excellent suppliers, and thanked those who go above and beyond to make someone's special day the most memorable of their life.
Raj Parmar, Director of Regency Hall, winning the regional and the overall Banqueting Suite of the Year said "It is amazing not only win the regional title but also the be awarded the overall winner for the north. Thank you to all our clients, guests and of course the team. It is great to see so many winners from Bradford and I am looking forward to next years event"
Brother and sister duo, Humma Ilyas & Hummad Ilyas (Huma Humad in Little Germany) who won Wedding Boutique of the Year said "Winning the award came to us as a total surprise. We were honoured to have been nominated but to actually win the award we are super proud and still in shock. This is a massive achievement for us especially this being our first year. Truly blessed and super proud."
A Spokesperson for The Britain's Asian Wedding Awards 2022 said "The winners represent the gold standard of the Britain's Asian wedding industry. The awards celebrated those who work tirelessly to meet the demands of the couples and their guests.
"These champions are tried and tested specialists that know how to create a stress-free wedding experience, keeping the romance in the air. We would like to congratulate all finalists and winners for their amazing achievements."
Winners:
Beauty Studio of the Year: Rubys Bradford (Bradford)
Cake Designer of the Year: The Crafted Cake House (Leeds)
Mandap Provider Of the Year: ApnaBeat Entertainment (Manchester)
Wedding Planner of the Year: Qube Events & Productions (Bury)
Grooms wear Supplier of the Year: Burooj (Manchester)
Entertainers of the Year: Apnabeat Entertainment (Manchester)
Stationery Provider of the Year: Shaadi Cards Bradford (Bradford)
Asian Wedding Sweets Supplier of the Year: Shandaar Sweets (Bradford)
Creative Make-Up Artist of the Year: Sonia Zohaib MUA (Manchester)
Best of Manchester: Al-Hamza Banqueting Hall (Accrington)
Transport Provider of the Year: AJ LIMOS (Manchester)
Florist of the Year: Fantail Designer Florist (Shefield)
Event Decorator of the Year: Touch of Elegance Wedding Stages (Rochdale)
Traditional Jewellers of the Year: Mangla Jewellers (Bradford)
Wedding Boutique of the Year North West: Kanval By Design (Manchester)
Wedding Boutique of the Year Yorkshire: Huma Humad (Bradford)
Wedding Boutique of the Year National: House of Mika Couture (Bolton)
Wedding Boutique of the Year Overall Winner: Huma Humad Bradford)
Wedding DJ of the Year North West: Desi Fusion DJs (Manchester)
Wedding DJ of the Year Yorkshire: Female DJ N (West Yorkshire)
Wedding DJ of the Year National: Newcastle Asian DJ's
Wedding DJ of the Year Overall Winner: Desi Fusion DJs (Manchester)
Wedding Caterer of the Year North West: Barfi Catering (Manchester)
Wedding Caterer of the Year Yorkshire: Aziz Catering (Bradford)
Wedding Caterer of the Year National: Medina Catering (Bolton)
Wedding Caterer of the Year Overall Winner: Aziz Catering (Bradford)
Photographer of The Year North West: S H Media Productions (Burnley)
Photographer of The Year Yorkshire: ZS Productions (Bradford)
Photographer of The Year National: Opu Sultan Photography (Edinburgh)
Photographer of The Year Overall Winner: ZS Productions (Bradford)
Videographer of the Year North West: Salman Siddique Films (Manchester)
Videographer of the Year Yorkshire: Ikonik Visuals (Halifax)
Videographer of the Year Overall Winner: Ikonik Visuals (Halifax)
Make-Up Artist of the Year North-West: Sonia Zohaib MUA (Manchester)
Make-Up Artist of the Year North East: Farah Khan Makeup Artist (Newcastle)
Make-Up Artist of the Year Yorkshire: Nida Glamour (Bradford)
Make-Up Artist of the Year National: Saira Javed (Glasgow)
Make-Up Artist of the Year Overall Winner: Saira Javed (Glasgow)
Henna Artist of the Year North West: Henna By IQ (Manchester)
Henna Artist of the Year Yorkshire: Hennabyzainabxx (Bradford)
Henna Artist of the Year National: Mehndi by Nelly (Glasgow)
Henna Artist of the Year Overall Winner: Hennabyzainabxx (Bradford)
Wedding Venue of the Year North West: Blackburn Dunkenhalgh Hotel & Spa (Oldham)
Wedding Venue of the Year Yorkshire: The Great Victoria Hotel (Bradford)
Wedding Venue of the Year National: Preston Marriott Hotel (Preston)
Wedding Venue of the Year Overall Winner: The Great Victoria Hotel (Bradford)
Banqueting Suite of the Year North West: Imperial Banqueting (Preston)
Banqueting Suite of the Year Yorkshire: Regency Hall (Bradford)
Banqueting Suite of the Year National: Lalas Banqueting Suites (Bradford)
Banqueting Suite of the Year Overall Winner: Regency Hall (Bradford)
Asian Clothing Boutique of the Year North West: Aleena's Couture (Manchester)
Asian Clothing Boutique of the Year Yorkshire: Dulhan (Bradford)
Asian Clothing Boutique of the Year Overall Winner: Aleena's Couture (Manchester)