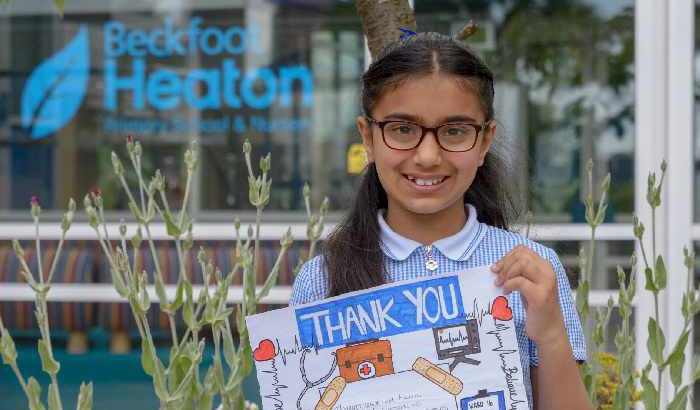 A 10-year-old girl from Beckfoot Heaton Primary School in Heaton, Bradford has been crowned regional winner of Health Education England's (HEE) Step into the NHS primary school competition.
Hafsah Ali produced a poster saying 'thank you' to the NHS. Her entry impressed judges to scoop the Yorkshire & Humber regional award.
The Step into the NHS competition aims to raise awareness about the breadth of roles in the health service, raise aspirations and challenge gender stereotypes. This is the first year that Step into the NHS has been rolled out in primary schools, following a successful 10 years operating in secondary schools.
A delighted Hafsah said:
"I am proud of being the Yorkshire winner, and I'm especially proud of the words inside the poem on my poster. The words are important because people in the NHS work so hard - they're pretty amazing because they save lives. I want to be an astronaut for my job, so I'll need the NHS to help me breathe brilliantly."
Zoe Mawson, Hafsah's headteacher said:
"I am delighted that Hafsah's work has been recognised through this competition – she is a worthy winner. Not only does she pay close attention to detail in all of her work, she is a thoughtful and caring member of our school community. Bbth of these attributes have served her well for this competition. Thank you to HEE for introducing Step into the NHS to primary schools – it has most certainly helped our pupils learn about the career opportunities available to them and with Bradford Royal infirmary on our doorstep, I am sure that we may well contribute to the future NHS workforce."
Schools were given free educational resources explaining a variety of NHS jobs, from nurses and surgeons to IT professionals and scientists. Pupils explored the past, present and future of the NHS and its careers, culminating in them designing a piece of artwork expressing thanks to the NHS and its staff.
The 2018/19 national primary school competition received 629 entries from schools across the country.
Professor Ian Cumming OBE, Chief Executive, Health Education England said:
"Inspiring the next generation of NHS staff has never been more important. Step into the NHS supports this by showcasing its fantastic careers.
"I'm delighted to see how many entries the first year of the primary school competition has received. The children have been so creative, and I'm especially encouraged by the grasp they have shown of the wide range of jobs within the health service.
"I'd like to give my thanks to all the pupils who entered this year, and particularly congratulate our national and regional winners."
All regional winners from across England have been awarded Amazon vouchers.