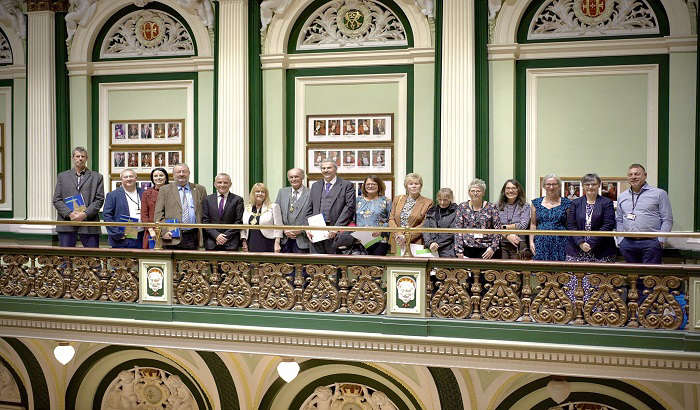 Fourteen Calderdale Council employees have been recognised for a combined total of over 350 years of service at an event at Halifax Town Hall on Thursday 26 October.
The Council's Long Service Award ceremony celebrated staff who have worked at the Council for over 25 years.
The ceremony was hosted by the Deputy Mayor of Calderdale, Cllr Sue Holdsworth and attended by the Council's Chief Executive, Robin Tuddenham, as well as Directors from the service areas of those receiving the award.
Fourteen members of staff received their recognition award from the Deputy Mayor and while they all had very different stories and career paths, it was clear that the level of service they all have provided over the years has really benefitted the people of Calderdale.
Calderdale Council's Deputy Mayor, Cllr Sue Holdsworth, said:
"It was wonderful to attend the Council's Long Service award ceremony to meet those celebrating over 25 years of service and listen to their stories about their time at the Council.

"The variety of the work carried out by the members of staff, showed the breadth of services delivered by the council and how the work of individuals has a collective impact on people in the borough."
Robin Tuddenham, Calderdale Council's Chief Executive, said:
"This was an inspiring event which demonstrated the dedication shown by all the colleagues receiving their long service award. Services across the Council were represented, and although their roles are vastly different, they all embodied the values of the Vision for the borough – showing the kindness, talent and resilience which makes our borough, and our organisation, so special.

"The event was also a reminder of the huge amount of talent in our workforce. I am proud of everything that they, and the whole Council, do for our communities, making a real difference to people across the borough."
Staff receiving the award included:
Tim Fagan, Theatres and Cultural Programmes Manager, Public Services
Tim joined the Victoria Theatre in 1998. He also managed both the Piece Hall and Hebden Bridge Picture House prior to their transitions to new management arrangements.
Tim's many achievements during his time at the Council, include steering the Victoria Theatre team through the COVID pandemic and out of the other side in magnificent fashion, resulting in 2022/23 being the best trading year that the service has ever experienced. The programme and the building continue to go from strength to strength under Tim's management.
Tim is also registered Drama Psychotherapist and runs a clinic at the theatre supporting young people and adults.
Ian Gledhill, Electoral Outreach Officer, Electoral Services
Ian first started working for Calderdale Council in August 1997. Ian's first post was as a Benefits Assessor and he remained in this team for a number of years until he joined the Electoral Services Team in April 2014, as Electoral Services Outreach Officer.
Ian works with many groups, supporting the democratic process and encouraging people to register to vote.
Jane Goodwin, Support Worker, Adult Services & Wellbeing
Jane started working for Calderdale Council in December 1997 and worked in the Community Mental Health Team in Halifax as a Mental Health Support Worker working with a range of service users in their own homes. She has developed her role to taking health screenings and her dedicated service over the years has been invaluable, especially during the COVID pandemic, during which time Jane and the team continued to run clinics to enable service users to continue receiving their medication safely.
Pat Rangeley, SEND Engagement Officer, Children and Young People's Service
Pat started her career working with children with sensory impairments and in 1998 joined Calderdale Council based at Savile Park School where she supported Hearing Impaired children. Many years on from that, Pat is still supporting Hearing Impaired children and their families and she has the gift of demonstrating compassion and understanding and often provides reassurance to families at very difficult or confusing times in their lives.
Judith Yousaf, School Crossing Patrol, Public Health
Judith began working for Calderdale Council in September 1997 and has given more than 25 years dedicated service as a School Crossing Patrol Operative at Sowerby New Road School.
Over the last 25 years, Judith has helped hundreds of children safely cross the roads in all sorts of weather conditions and continues to support road safety and awareness on the busy road.
Other long serving staff, who also received recognition for their dedicated work, are as follows:
David Akroyd – IT Officer, Field Support, Public Services
Jane Kirk – People Development Manager, Human Resources and Organisational Development
Karen Lewis – Campaigns Officer, Communications Team
Claire Priestley – Senior Family Intervention Key Worker, Children and Young People's Service
Sarah Sharpe – Assistant Manager, Adult Services and Wellbeing
Duncan Thorpe – Team Manager, Education Welfare Service, Children and Young People's Service
Louise Traviss – Care Charging Case Worker, Adult Services and Wellbeing
Graham Williams – Political Assistant – Liberal Democrat, Legal and Democratic Services