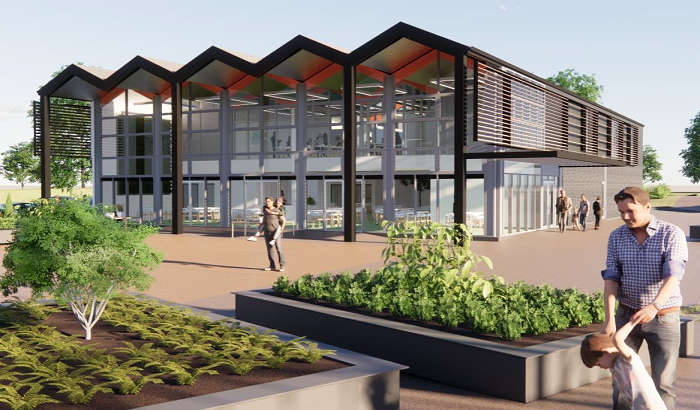 Work to build a new environmentally-friendly depot in Alexandra Park will start this Autumn – paving the way for a modern building with community facilities and opportunities.
Oldham Council's cabinet has now appointed a contractor to start initial works on the new building which will be heated by green energy.
Replacing Alexandra Park's existing ageing depot, it will provide a new home to our environmental services teams. There will also be opportunities for the community to share the space for events, education and recreation.
Cllr Arooj Shah, Council Leader and Cabinet Member for Social and Economic Reform, said: "The new depot is a fantastic example of how Oldham Council is striving to make Oldham the greenest borough in Greater Manchester and, at the same time, unlocking opportunities to improve the lives of our communities.
"The works will provide a modern working space for our colleagues, who do a great job looking after Oldham's parks, gardens, playgrounds and keeping our streets clean. The construction process will create much-needed local jobs and skills, and when complete, the building will continue to play an active role in the community through a range of uses."
Embracing our commitment to green energy, it will be powered by an air source heat pump to provide sustainable heat and hot water.
Work will begin soon and is expected to complete in winter 2022. As part of our commitment to delivering social value through all council contracts, the project will create 13 new jobs as well as work placements and skills opportunities to help young people into work.
Whitfield and Brown Developments, which is carrying out the construction, is also committed to supporting the local supply chain and Oldham community through a total social value investment of over £2 million.
The new depot will be home to more than 200 staff who are currently spread over several buildings throughout the park. The main office is currently the former Gardener's Lodge, but the building is becoming dilapidated and in urgent need of significant investment.
The building is an anchor development to Northern Roots – the UK's largest urban farm which is being created on 160 acres of adjacent land at Snipe Clough. We'll be working closely with Northern Roots' team to develop a range of activities and opportunities for local people at the new depot.
When complete, it will also boost our ongoing partnership with Oldham College - giving apprentices an improved training centre to learn horticultural skills. We're also exploring how we can open it up for other uses such as events and functions.
The new depot is the first phase of a wider vision to create a sustainable hub at Alexandra Park including greenhouses and buildings powered by green energy. The coronavirus pandemic has impacted on our budgets, so instead of developing the project all at once, we are taking a phased approach.
Cllr Abdul Jabbar, Deputy Leader and Cabinet Member for Finance and Low Carbon, said: "As a Green New Deal council, we are absolutely committed to tackling the climate challenge.
"This project is delivering huge environmental, economic and social benefits – all of which will support Oldham to have a better future."