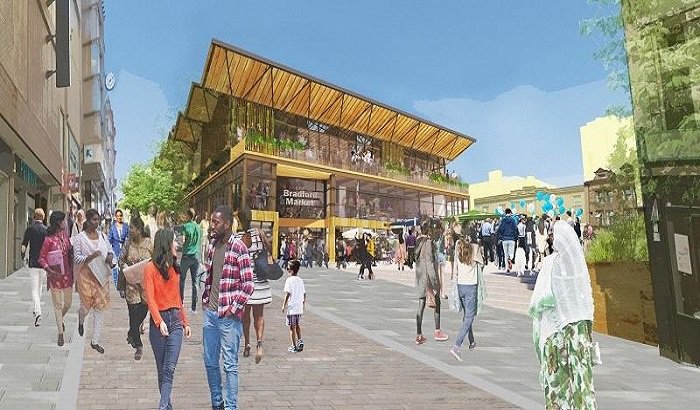 Bradford Council arranged for 11 of the traders of the new Darley Street Market, to get a tour of the site, to give them an idea of where they will be trading from once the new market is complete.
Those given a special look round the site included - Kammy from Kammy's Essentials, Ash from Solly Fruits, Gunther from Roswitha Deli, Johnny from Taplins Butchers, Martyn from Tropikal Foods and Neil from Priestley Fish who are all currently trading at the Oastler Market, as well as Kath from The Joke Shop and Mandy from Melting Moments from the Kirkgate Market. They were joined by new traders Joanna a local artist, Colin from Di's Pies Ltd and Estela from Miski Mexican Food.
These traders are just 11 of those who the council has made initial offers to for the fresh food and non-food trading floors at the market. So far the response from businesses has been really positive and over 90% of the stalls have been let.
Further offers are being made to businesses who have expressed an interest in the remaining stalls as well as other new businesses who will add value to the mix of products already selected.
Traders at the new market will be offering a wide range of quality products and services and are a great mix of experienced existing businesses as well as new traders that will meet the needs of existing customers but also new customers attracted to what the market will offer.
On the non-food floor there will be a wide range of products and services including health and beauty, gifts, shoe repairs, clothing and footwear, fabric, art and craft supplies, fresh and artificial flowers and two cafes.
The fresh food hall will have businesses offering an extensive array of fresh foods such as fruit and vegetables, traditional butchers, fresh fish and seafood, sweets and confectionary, traditional African and Mexican foods, delicatessen, cooked meats, spices, juices, cheese, pies as well as artisan breads, bakery goods and health foods.
The council intends to appoint an operating partner shortly to manage the food and beverage hall located on the top floor, which offers 13 kiosk type stalls and seating for up to 500 customers. The trader selection process for this floor will take place jointly with the new operating partner.
The multi-level market which also incorporates an outdoor square for pop up trading, concerts and events, is currently under construction on a prominent and large site on Darley Street in Bradford city centre.
The market is part of the ongoing cultural and physical regeneration of Bradford city centre, complementing what's on offer across the district and enhancing Bradford's destination status as the host city for UK City of Culture 2025.
Councillor Alex Ross-Shaw, Bradford Council's Executive Member for Regeneration, Planning and Transport, said: "There has been a great deal of demand for stalls at the new market with lots of interest from existing Bradford Markets traders as well as new traders, including many from outside the district.
"We've worked hard on the selection process to ensure that the new market has a great range of stalls with products that add real value to the retail mix. To get so much interest from businesses from across the North and the Midlands, is a real vote of confidence in Bradford's future and Darley Street Market being one of the best markets in the North of England."
Joanna, a local artist whose first permanent pitch will be at the new market, said: "This is such an exciting opportunity for me as a multi-disciplinary Afro-Caribbean business woman. As a small to medium business owner, I am elated for this opportunity to take my business to the next level and bring you the very best of my creative art and design work. I look forward to trading at Darley Street, adding my unique touch as I contribute to making Bradford thrive as the City of Culture."
Neil from Priestley Fish currently at the Oastler Market, said: "I am looking forward to things being busier, and it will be a nicer environment. I have been in Oastler Shopping Centre since 2001, Priestley Fish has a stream of regular customers. Some people have been coming for many years and some come every week for the same order. But since people's routines have been broken due to Covid that is getting less common and I think moving closer to the bottom end of town will see our stall welcome more footfall."
Gunther from Roswitha's Deli, said: "Roswitha's Deli has been in the heart of the Oastler Market for 30 years, I am so excited to move to the new market and continue our market journey in a more city central shopping location. We have sold a dizzying variety of European staples inside Oastler for so long and the market holds so many good memories for our business but we have lots of exciting plans for our stall inside the new market and we look forward to seeing our deli evolve and grow with new and old customers."
Information about more of the traders at the new market will be released over the coming months. Traders unable to be accommodated in the new market will be supported by Bradford Markets to assist their search for alternative premises in the district.