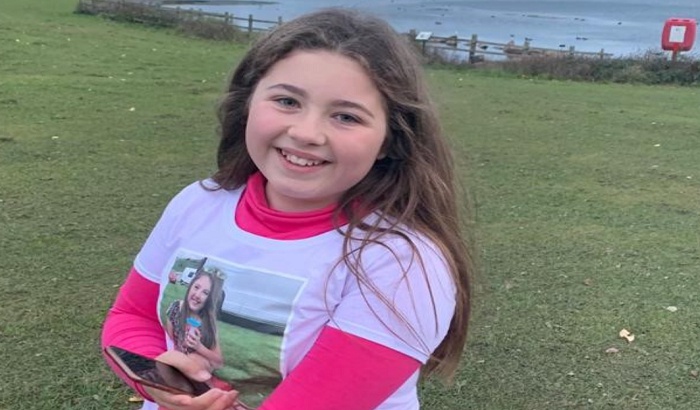 Inspirational Maisie raises over £800 for PDSA after its vets saved family pet
An inspiring schoolgirl who suffers with scoliosis, a debilitating condition of the spine, has walked ten miles to raise vital funds for vet charity, PDSA, after they provided life-saving treatment for her family's beloved Dalmatian, Rio.
Maisie, aged 10, from Wakefield, West Yorkshire, walked for nearly four hours to reach her ten mile goal. Her efforts raised over £800 for PDSA, the vet charity for pets in need, who performed emergency surgery when Rio suffered a life-threatening blocked bladder.
The animal-obsessed ten-year-old, who hopes to be a Zoologist when she grows up, took on the walk accompanied by her family, who took turns to walk alongside Maisie on her challenge.
Maisie's mum, Leanne Proctor, (32) said: "We are so proud of Maisie and her incredible achievement. She decided to take this on herself after PDSA saved our dog's life. She saw those long ten miles through and has raised an incredible amount to give back to PDSA for their amazing work.
"Maisie was diagnosed with scoliosis, a painful disorder which causes curvature of the spine, four years ago. She suffers with back pain on a daily basis which can make walking very uncomfortable. But she didn't let that stop her and she carried on like a trooper."
Leanne explained that the pandemic left herself and her husband unexpectedly out of work for the first time in their lives so when their beloved two-year-old Dalmatian fell unexpectedly ill, they were extremely worried about how they were going to afford the vet treatment.
Leanne said: "It's been such a difficult year with both of us findings ourselves without a job and struggling financially – it's something we've never had to face before. We went from having everything to nothing. It wasn't long after we found ourselves out of work that Rio started acting strangely. He wasn't drinking very much, constantly straining to wee and was unusually quiet and lethargic. We knew something was badly wrong."
With finances extremely tight Leanne looked into her options and she found she was eligible for PDSA's support.
Two-year-old Rio was taken to the Leeds PDSA Pet Hospital, The Frederick Jennings Centre, where tests were carried out. Vets confirmed Rio had a urinary stone blocking his urethra and would need emergency surgery. He underwent an intense and complicated operation to unblock the bladder and allow him to urinate again. Following surgery, and once Rio was stable enough to travel, he was transferred to the Bradford PDSA Pet Hospital for intensive nursing care. He needed round-the-clock care with constant monitoring, antibiotic injections, fluid drips and regular pain relief.
PDSA Vet, Rachel Bishop, said: "Poor Rio's urethra was completely blocked which meant that he was unable to urinate unless he underwent surgery. He required a lengthy operation, where we had to create a new opening for his urine to pass through. If this condition had been left untreated, it certainly would have been life-threatening for Rio, but thankfully he was brought to us just in time so we were able to give him the urgent treatment he desperately needed.
"After two days of intensive care at PDSA, he was stable enough to go home under strict rest for at least two weeks with pain relief and antibiotics. He'll need regular monitoring in the future, but we've had follow up phone consultations to check his progress and he's making a brilliant recovery. And I'd like to say a massive thank you to Maisie on behalf of PDSA – we don't receive any government funding for our vital veterinary services, and rely on the amazing generosity of animal lovers and wonderful fundraisers like her and her family."
Leanne added: "We are all so incredibly grateful to the amazing PDSA vet teams for saving Rio – he means so much to all our family. There's a big chance he wouldn't be here now if it wasn't for them so we really are thankful, especially during this already hugely challenging year. Maisie is so pleased that she's been able to raise such a great amount already and we'll continue to support the charity for the amazing work it does."
Rio's treatment cost the charity £1,370 but thanks to the vital work of PDSA's vet team, Rio was able to receive the life-saving care he was in desperate need of.
Rachel added: "Rio is just one of the many thousands of pets we've treated since lockdown. From the start of lockdown to September this year, PDSA's Pet Hospitals have carried out over 546,000 remote appointments, performed more than 15,000 emergency and essential operations and 30,000 x-rays, caring for pets whose owners can no longer afford vet fees.
"For many pets, like Rio, whose owners are struggling financially, PDSA might be their only emergency service.
"Sadly, pets will continue to fall ill or get injured throughout this Coronavirus crisis and many owners will be in desperate need of our help due to changes in their financial circumstances. I hope people will support PDSA's Pet Care Crisis Emergency Appeal so that together we can reduce the impact of pet poverty caused by the pandemic."