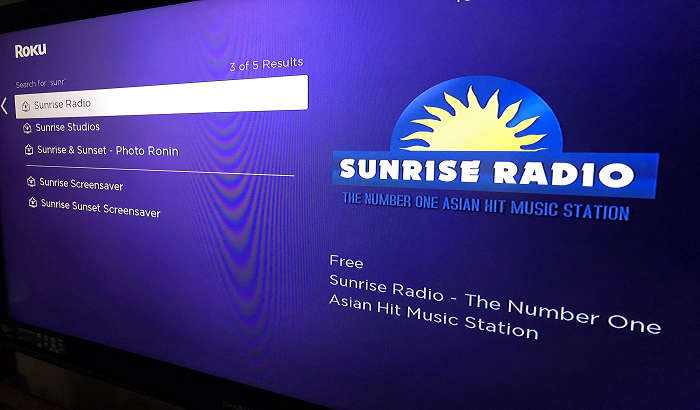 The Number one Asian Hit Music Station launches on Roku Streaming Devices
Sunrise Radio has officially launched on Roku Streaming Devices today (15th October 2021)
Roku streaming devices are used by millions (over 51 million active accounts) of consumers across UK, Ireland, France, North America, and Latin America
Sunrise Radio launched in December 1989 as the first independent commercial Asian Radio Station on FM. The award-winning family station based in Yorkshire currently broadcasts on 103.2FM, DAB Digital Radio (Across Bradford, Kirklees and Calderdale), DAB+ Digital Radio (Across Manchester), Mobile / Tablet APP, Online and Apple TV.
Raj Parmar, Director of Sunrise Radio said "As we celebrate 32 years of broadcasting, It brings me great pleasure to launch our service on Roku streaming services and connecting with even more listeners across UK and beyond. This is also an amazing opportunity for businesses to connect with potential customers. I look forward to some more exciting announcements as we approach our 32nd Anniversary."
How to Add Sunrise Radio to Roku
There are two ways to add the Sunrise Radio Channel to Roku — through your Roku device or the Roku website. We'll run through each method with step-by-step instructions.
Add Channels Through Your Roku Device
Press the Home Button
Press the home button on your Roku remote to make sure you're on the home screen.
Go to Streaming Channels
Using the arrow buttons, select "streaming channels" from the menu and press "OK" on your remote. That will open the Roku Channel Store.
Find the Sunrise Radio Channel via the Search Tool
Use the search tool. Go to "search channels" and type in Sunrise Radio using the on-screen keyboard.
Add the Channel to Your Roku
Once you've found the Sunrise Radio channel, press "OK" to see more details. Select "add channel" and press "OK" on your remote. Then click "OK" to confirm that you want to add it.
Confirmation message
You'll see a progress bar and then a confirmation that Roku added the channel.
Find the Channel
By default, any new channel will be added at the bottom of your channel list (though you can move it). Press the home button on your Roku remote and scroll to the bottom using the down arrow key to find the Sunrise Radio channel.
Go to the Roku Website and Log In
Go to www.channelstore.roku.com and log in to your Roku account. Use the search bar to find the Sunrise Radio channels.
Check the Buttons
You will notice that channels have different "buttons" underneath them. If a channel is already on your Roku (some install as default), you will see "installed" underneath. For channels not already added, there will be a "details" button for viewing more information about the channel, and, for the most part, there will also be an "+ add channel" button.
Add a Channel
Once you've found the Sunrise Radio channel, simply click the "+ add channel" button. If that button isn't there, click the "details" button and then click the "+ add channel" button.