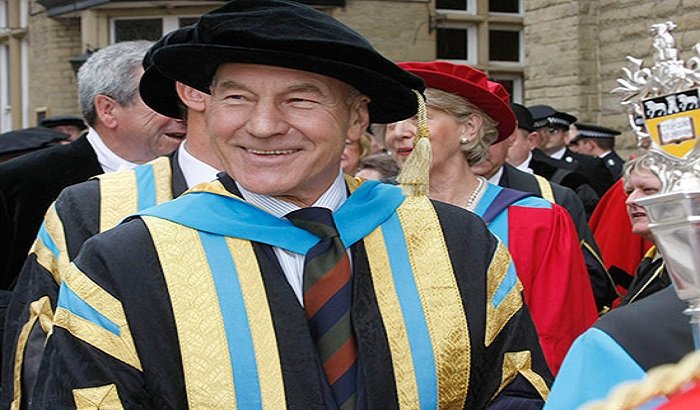 Acting legend Sir Patrick Stewart returns to the University of Huddersfield for a ceremony that bestows his name on a historic building
ONE of actor Sir Patrick Stewart's longest-running roles was Chancellor of the University of Huddersfield. Now he returns for a ceremony that sees a historic campus building named after him.
Currently on tour with fellow acting legend Sir Ian McKellen in a near-sellout production of Harold Pinter's No Man's Land – which has reached Sheffield – Sir Patrick revisits the University on Tuesday, 9 August, to unveil a plaque which sees the drama department officially renamed the Sir Patrick Stewart Building.
The premises are a vast Victorian church - previously known as the Milton Building – which have been converted into spacious, well-equipped studios and theatres for all kinds of performance, teaching and research.
Sir Patrick, who was born in Mirfield, was Chancellor of the University of Huddersfield from 2004 until 2015, when he handed the role over to HRH the Duke of York. The actor, who is famous for his classic stage acting as well as roles on TV and in movie blockbusters, is now Emeritus Chancellor of the University, which he has frequently visited over the past 12 years, presiding over many graduation ceremonies and meeting large numbers of students. He has also served the University in an overseas ambassadorial role.
When he attends the renaming ceremony, Sir Patrick will see three performances by groups of drama students, who will present pieces they have devised as part of their degree studies.
The University of Huddersfield has begun a process of naming all its key buildings after famous local personages. Most of them are figures from the past such as Richard Oastler and the Brontes. Sir Patrick is the exception.
"He is very much a living legend!" said University Vice-Chancellor Professor Bob Cryan, who will escort Sir Patrick at Tuesday's event. "He was an inspirational figure as Chancellor for so many years, and now we are ensuring that he will be an inspiration for drama students for generations to come".