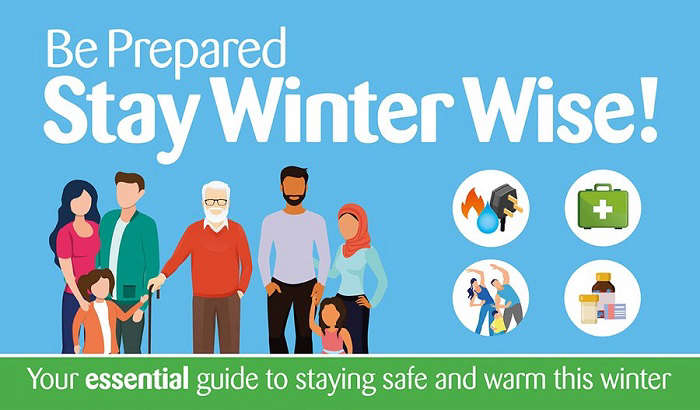 Residents in Calderdale will soon receive important advice to support them to stay warm, safe and well throughout this winter.
The latest version of the Winter Wise guide will soon arrive on the doorsteps of all households in Calderdale. The guide has been created by Calderdale Council in partnership with the NHS West Yorkshire Integrated Care Board (ICB) and is also available to view at www.calderdale.gov.uk/winter. It contains important advice, such as preparing for extreme weather events, energy saving tips and how to boost physical and mental wellbeing.
This year's guide includes a special section on the support available to help with cost of living increases, including details of the Council's Money and Wellbeing pages: www.calderdale.gov.uk/mwic
Whether it's protecting ourselves and each other by ensuring we receive our flu and COVID vaccines; being kind to ourselves by building more activity into our day; or checking in on friends or neighbours – simple acts can make a big difference.
The innate kindness of Calderdale communities is also being showcased in the Council's latest Vision2024 social media 'takeover' week. Throughout the week beginning Monday 14 November, the Council is sharing content around Kindness – one of the five themes of Vision2024 – and encouraging people and organisations to think about what makes Calderdale special and how showing kindness can make a difference.
Showing kindness to public services is also incredibly important, and to support local health and care services the Winter Wise guide signposts people to the right care, in the right place, at the right time. This includes support on self-care and the use of local pharmacies, as well as advice about contacting GP surgeries or seeking urgent emergency care. More information is available at https://togetherwe-can.com/
Calderdale Council's Deputy Leader, Cllr Jane Scullion, said:
"Once again, we're issuing our Winter Wise guide to all households in the borough to ensure everyone has the information to support them to stay warm, safe and well this winter.

"We've received really positive feedback about this booklet and this year, more than most, we think it's vital that people can easily access a wide range of support to help manage the unpredictability of the winter season.

"In addition to the usual practical advice, this year's booklet also includes a section on the cost of living support available to residents, as we understand that financial worries are likely to be magnified this year.

"It's also essential that we don't underestimate the importance of showing kindness this winter. We saw some incredible acts of kindness throughout the pandemic and as we face new and continued challenges, showing consideration for others is vital. We're highlighting ways in which we can be kind to each other and ourselves within the Winter Wise guide and as part of our #kindness social media takeover week."
The Winter Wise guide has been collated by Calderdale Cares Partnership which includes Calderdale Council and NHS West Yorkshire Integrated Care Board.
Kindness is a key theme of the Vision 2024 for Calderdale. The year 2024 marks Calderdale's 50th birthday and there are less than two years to go. Where do we want to be by 2024? What's our ambition and what will be different? Find out more at www.calderdale.gov.uk/vision. Find out more about the Kindness Vision theme by following #VisionCdale2024 and #kindness on social media.