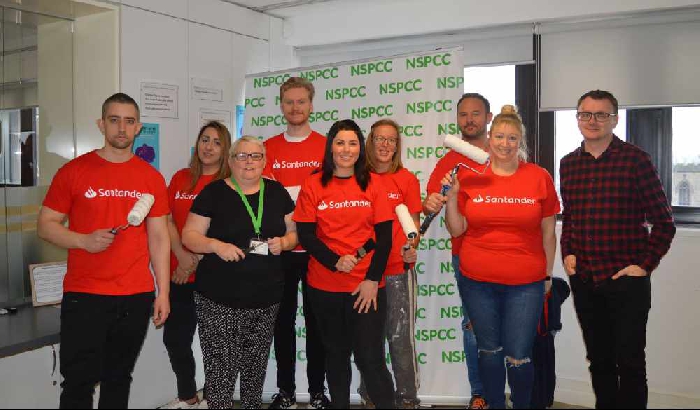 Staff from Santander's Head Office in Bradford gave up their time to paint the walls in the counselling room and main office at the Childline base on Albion Street in Leeds.
The help Childline received has been welcomed as a major boost for the team of volunteer counsellors who were contacted 52,134 times by young people last year alone.
Darren Worth, Senior Supervisor at the Leeds Childline base said: "We can't thank the team enough. The offices look terrific and I know our volunteers will really appreciate their efforts.
"The work our volunteers do with children is vital and to be able to carry on those contacts with children and young people in brighter surroundings will no doubt be really beneficial"
"1 in 5 children in the UK suffer abuse, and every year, specially-trained Childline counsellors answer calls from children suffering their darkest hour.
"Volunteer counsellors have over the last few years seen an increase in young people contacting them about mental and emotional health and wellbeing issues, accounting for nearly two fifths of all counselling sessions."
Speaking on his team's volunteering at the centre, George Davis, Mortgage Adviser at Santander in Bradford, said: "It was great to see what a difference our staff were able to make by the end of the day. The whole team got stuck in and it was fantastic to be able to give something back to our community."