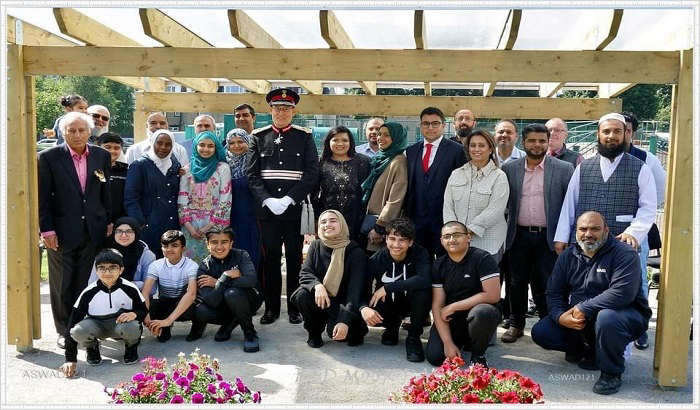 Bradford Moor PASS with the Lord Lieutenant, Ed Anderson.
A community project in Bradford Moor, which is supported by Bradford Council, has received a royal seal of approval.
Bradford Moor's Play and Support Service (PASS), which runs a range of activities and projects to engage and support the community, has received a Queens Award for Voluntary Service. The award was presented by the Lord Lieutenant of Yorkshire, Ed Anderson, on behalf of The Queen, at a special event last week in Attock Park Community Garden.
The group, which has been running for 13 years, has been recognised for the way it has engaged and involved the local community, particularly young people. It is run by volunteers from a cabin in Attock Park.
One of a number of projects Bradford Moor PASS has been involved with is the transformation of a community garden at Attock Park. The site, which was once seen as a great community asset, had become rundown over a number of years, so with funding from Bradford Council and Better Place Bradford, the Council's Landscape, Design and Conservation Team, led by Saira Ali, has been able to transform the area.
The new-look area now includes a new boundary fence and gates; paths with improved access; a large barbecue and patio area; raised beds; compost bins; a sheltered outdoor teaching/seating area; a potting shed and a small orchard. The space will provide open access to all members of the community from the young to the old. The garden will also provide a welcome space in an area where there are few private gardens and the closest green space is some distance away.
There is also a Multi-use Games Area (MUGA), playground and basketball court on the 30-year-old site. These are also to be renovated. The Landscape team will be working with Better Place Bradford on a toddler play area and with the council's Parks and Green Spaces team and Football Foundation to refurbish the football and sports pitches.
Amjid Hussain, Director of Bradford Moor PASS, said: "We are delighted to be receiving this award on behalf of all our volunteers. It demonstrates how powerful local people can be on behalf of communities that they are a part of and have a vested stake in."
Cllr Abdul Jabar, Portfolio Holder for Neighbourhoods and Community Safety, at Bradford Council, said: "The work of Bradford Moor PASS has made a real difference to the local community, bringing younger and older people together and restoring a sense of pride, connection and ownership. We are very proud to also have a stake in the work the group has achieved."
Former Lord Mayor and councillor Gazanfar Khaliq was also thanked for his contribution and commitment to the group over the last 13 years.
Other activities run by PASS include a bike club, youth sports and development programmes, a women's market, social enterprise and support and a homework club during term time.