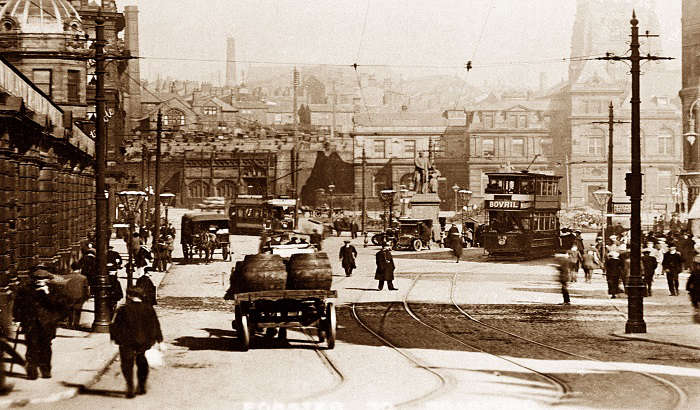 CREDIT KGPA_Alamy
This summer, StoryTrails, the UK's largest immersive storytelling experience, invites residents of Bradford to explore untold stories of the city through ground-breaking multimedia technologies.
StoryTrails, part of UNBOXED: Creativity in the UK, comes to Bradford with a free two-day live event taking place on 22 and 23 July, as part of a tour of 15 locations around the UK over the coming months. Centred around Bradford Library and on the streets of Bradford itself, it features digital experiences which will allow people to experience the town in a completely new way through the magic of augmented (AR), virtual reality (VR) and immersive cinema.
An augmented reality trail through Bradford developed by Mobile AR TrailMaker Hafsah Naib and accessed through mobile devices, invites visitors to help the man known as 'The Godfather of Bradford', Mohammed Faisel Hussain finish his passion project, a film 10 years in the making. Mohammed came to Bradford in the 50s, bringing a bit of Bollywood with him. He helped others like him to integrate locally by involving them in his film pursuits. The trail includes family scenes shot in and around Bradford by Mohammed integrated with the story of Bradford as a UNESCO city of film. The latter began in 1902 when film pioneers Mitchell & Kenyon, captured mesmerised crowds as they travelled through the city with a camera strapped to a tram. Bradford had 42 cinemas in its heyday and its popularity with Sunday movie goers and Asian cinema has endured.
The AR trail uses cine film and video home movie footage from the BBC and British Film Institute, as well as local archive materials to present a window into the past. Visitors can borrow devices from the library and follow guided augmented reality trails as well as download the StoryTrails app on smart phones to follow the story trail route independently from outside library. The trail can also be experienced via the mobile app outside of the live event, with the app available to download until the end of the year.
There will also be an immersive cinema experience unique to the city and viewed on a cycloramic cinema screen set up inside the library. Immersive virtual maps of the city have been created using 3D scans of the local buildings, people, objects and areas, telling stories of people and place. This 15-minute film will play on a loop throughout the day. An expanded version of the map can also be viewed on iPads inside the library.
In Bradford, the map was developed by local spatial StoryMapper, Karol Wyszynski from the stories of local people and features iconic places and local favourites such as City Park, Centenary Square and St Georges Hall.
Karol Wyszynski and Hafsah Naib were two of just 50 emerging creatives around the UK to be selected to take part in the development of StoryTrails and benefit from expert training and mentoring opportunities from StoryFutures Academy, the National Centre for Immersive Storytelling, the team behind StoryTrails. StoryFutures Academy is run by Royal Holloway, University of London and the National Film and Television School (NFTS).
Hafsah said: "It's taken months of work to get to this point and we can't believe we finally get to share it with everyone. It's truly been a project by Bradford, for Bradford, created in Bradford. We've unearthed incredible stories of powerful local characters that deserve to be told. We've worked closely with BFI and BBC archives to help tell those stories and we're using new technologies like AR to bring them to life in a way that makes them accessible to all. If you don't have a smart phone you can borrow one on the day – come along to the library on the 22-23 July and you'll be able to give it all a go, for free."
The libraries themselves will also allow visitors to enter digitally created worlds using a virtual reality (VR) headset. They can expect to find themselves in the shoes of a rebellious teenager as she discovers her mother's punk past; take part in one of the many South Asian daytime raves that took place across the UK in the 1980s and 1990s; and hear what earlier generations thought life would be like today. All the stories featured on the VR headsets are available at every stop on the StoryTrails UK tour.
Historian and television presenter David Olusoga, familiar to viewers of the BBC's A House Through Time, narrates a further AR experience that invites visitors to turn a dial on a virtual giant radio and travel back in time. From Beatlemania and the flares and haircuts of the swinging sixties, to dancing to the end of the millennium in crop-tops and trainers, audiences will experience a potted history of the UK through the decades.
This innovative project is led by StoryFutures Academy, the National Centre for Immersive Storytelling. It was developed by teams of leading technologists and creatives, brought together for UNBOXED: Creativity in the UK, a UK-wide celebration of creativity taking place in 2022, including immersive animation pioneers, ISO Design and Nexus Studios, and the company behind Pokémon GO, Niantic. It is brought to life in The Reading Agency's national network of libraries and by event-making specialists ProduceUK.
Professor James Bennett, Director of StoryFutures and StoryTrails, said: "This is about getting people excited about where they live – helping them connect with stories of their towns and cities from the past and present through a new lens. New technologies like AR and VR can help build these connections and reignite people's passion for the past. These technologies are for everyone – we want to find ways to engage people from all generations and spark a genuine celebration in each of our incredible locations."
Martin Green CBE, Chief Creative Officer UNBOXED: Creativity in the UK, said: "StoryTrails is one of ten ground-breaking UNBOXED projects taking place in 2022 that demonstrate the power of creative collaboration across science, technology and the arts to create extraordinary and never-seen-before public experiences. StoryTrails uses cutting edge technology to offer people the opportunity to hear about the places they live - the stories of individuals and communities - in a way that has not been done before."
StoryTrails' 15-stop UK tour runs until 18 September 2022 and culminates in a new film presented by David Olusoga that will screen in UK cinemas and BBC iPlayer. The StoryTrails app, augmented reality story trails and immersive maps will be available throughout 2022. The Reading Agency's annual Summer Reading Challenge, for children aged 4 to 11, takes a StoryTrails theme.
UNBOXED: Creativity in the UK is funded and supported by the four governments of the UK and is commissioned and delivered in partnership with Belfast City Council, Creative Wales and EventScotland.
StoryTrails Bradford live events take place 22-23 July 2022
City Library Bradford, Centenary Square, 9 Aldermanbury, Bradford BD1 1SD
Library opening hours: Friday 22 July: 11-7 , Saturday 23 July: 10-6