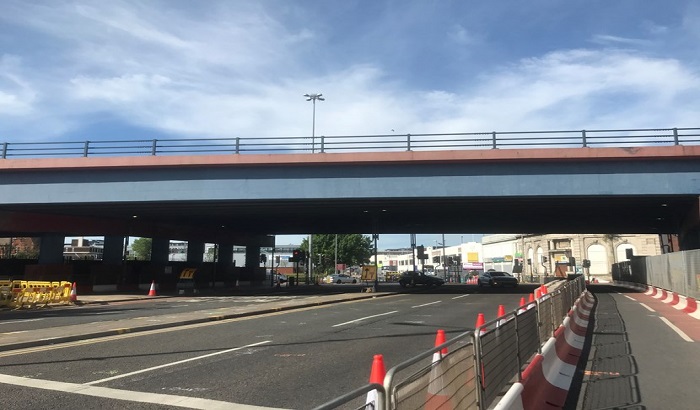 Demolition of one of the key bridges in Leeds city centre is to begin next month to allow for a £31million rebuild.
Built in the late 1960s, The Regent Street Flyover, which carries traffic over the Inner Ring Road has reached the end of its usable life.
From Saturday 4 July and taking place over the following four weekends, the southern half of the existing flyover will be demolished and removed. This will see approximately 2,250 tonnes of steel and concrete removed which is the equivalent weight of 550 SUV trucks. All the steel and concrete will be taken to a recycling centre, where the materials will be 100 per cent recycled.
To allow for this work to be completed, there will be a series of weekend closures starting with preparatory work on Friday 26 June – Monday 29 June, 8pm – 5:30am, with the A64(M) and A61 re-opening outside of these hours with lane restrictions.
Weekends Friday 4, 11, 18 and 25 July will have full closures which will last from 8pm on Friday evening until Monday morning at 5:30am.
These improvements form part of the council's Connecting Leeds transport ambitions for the city. The replacement of Regent Street Flyover along with complementary works to the Armley Gyratory, ensures the Inner Ring Road will maintain traffic flow across the city and enable the pedestrian prioritisation of City Square.
Leeds City Council's contractor Balfour Beatty have organised one of the largest cranes in the UK to support the demolition with works procured via the Scape National Civil Engineering and Infrastructure framework. It will lift and remove some sections of the bridge to place onto waiting transport, to be escorted away from the site by the police.
The remaining sections which cannot be removed by crane will be removed using a modular transporter, a specialist piece of equipment which drives under the bridge and lifts the sections up free from the bridge. It then transports them to a safe location on site where they will be broken down into smaller pieces, before being removed from site.
The flyover plays a vital role in the daily life of the city, with an estimated 43,000 vehicles passing over it every day while 30,000 vehicles pass below it on the A61. Without these works which have been planned and co-ordinated over several months the flyover would need to close to ensure public safety.
Once complete in spring 2022, this critical piece of infrastructure will be replaced with a more robust design than the previous one.