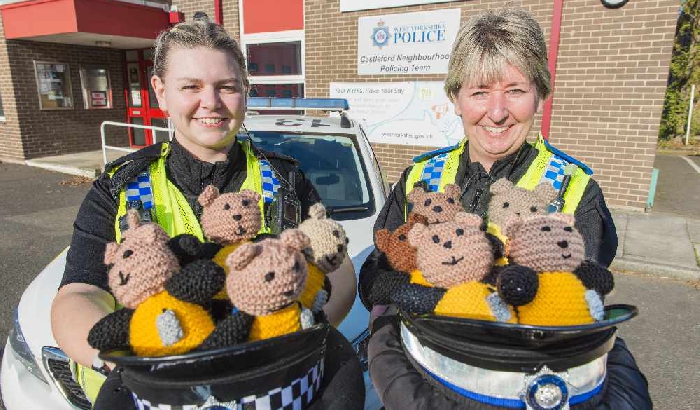 Creative residents have engaged in an act of cuddly Castleford kindness by sending in scores of teddy bears for officers to give to children in distress.
Neighbourhood Policing Officers in Pontefract are now taking part in a 'Bobby Buddies' scheme after the Castleford Neighbourhood Policing Team has been besieged with bears sent in by knitting circles, coffee morning groups and wool shops for officers to give to youngsters.
The Bobby Buddy scheme was launched in Dorset and encourages residents to send in or knit teddy bears in police uniforms which officers can give to youngsters going through traumatic situations as a way of engaging with them and providing some basic comfort.
Children they have given the teddies to include young victims of domestic violence, youngsters who have missing relatives or have been bereaved or children taken into police protection.
Police Community Support Officer Hannah Scott, who helped implement Bobby Buddies project in Castleford, said: "We are really passionate about this initiative and really pleased to see it being introduced to the rest of district, helping more young children.
"The initiative helps us to promote early intervention from a young age and to encourage positive interaction with young people, assisting them at difficult times and realising that police officers are there to help them, are approachable and not to be scared of.
"The influx of bears we've had from residents really shows the huge importance of community engagement in the work we do."