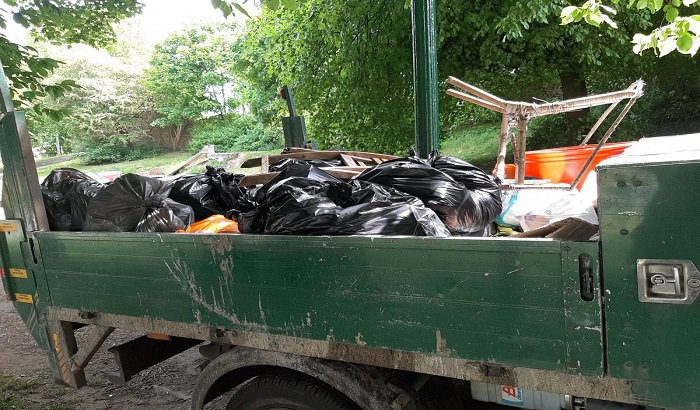 Following further complaints and litter being consistently left behind in Sheffield's parks, Sheffield City Council has increased efforts to tackle the problems.
Most people are disposing of their waste responsibly because they love and are proud of their parks. The actions of the small minority who don't, are creating unsightly mess, health and safety issues and a drain on resources.
Councillor Mary Lea thanks all those who are doing their bit, and asks those who aren't, to be considerate to the city's beautiful parks, and all visitors.
Councillor Mary Lea, Cabinet Member for Culture, Parks and Leisure at Sheffield City Council, said: "The warm weather naturally brings large numbers of people in to our parks to enjoy themselves, and although it may not appear so, most of our residents are proud of their parks and dispose of their rubbish properly and act responsibly. I want to thank all those who do their bit because it makes a big difference.
"Unfortunately it only takes a few to act irresponsibly, resulting in the mess we've seen left behind and the continued anti-social behaviour that has made it difficult for local people to enjoy Endcliffe and nearby parks.
"We are working extremely hard to manage waste within our parks, especially at Endcliffe which seems to be worst hit. We have put in extra bins, are emptying up to three times a day with teams out at 6am, have installed signs asking people not to leave their rubbish and have shared numerous messages across all digital channels and the media.
"Some people think the council isn't doing enough, but we are doing a lot. Not just in Endcliffe Park but in parks across the city. Let's not forget, we are still in the middle of a serious pandemic and a huge amount of additional pressure has been placed on our services. We are doing everything possible to protect our natural environment, while keeping our staff safe and this remains a priority.
"Of course we want people to be able to relax and have fun in the outdoors, but there is absolutely no excuse for leaving rubbish in the park. It's very simple, if it can be carried in full, it can be carried out empty.
"In addition to problems with litter, I understand that a range of anti-social behaviour issues are happening frequently, and how concerning these are for other park visitors and for people who live nearby. We are working closely with South Yorkshire Police to manage these issues and extra patrols are now in place. I encourage local people to report any incidents so that they can be dealt with."
Sheffield City Council, along with its contractors Amey and Veolia, is clearing in excess of 4 tonnes of waste – per day – from Endcliffe Park and the Porter Valley.
The increased efforts to keep parks clean include:
Emptying bins in parks 7 days a week
Extra bins in busy locations – including Endcliffe
Increased collections – up to 3 times a day in Endcliffe Park
Teams working 6am – 8pm emptying bins and litter picking to support increased park usage