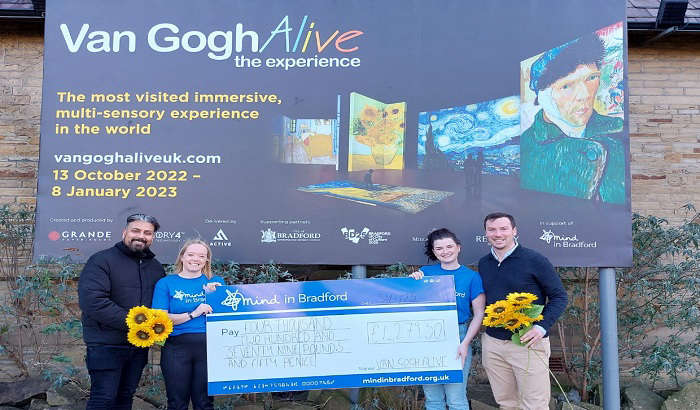 Visitors to the stunning Van Gogh Alive UK exhibition in Bradford donated more than £4,000 to Mind in Bradford.
Mind in Bradford, a charity setup over 30 years ago, were selected as the event's charity partner for its three and a half month stay at the magnificent Regency Hall in the city.
It was well-documented that Van Gogh was plagued by his own mental health issues, often reflected in the expressive and impulsive style of his work, so Mind in Bradford was the obvious choice for Van Gogh Alive UK when selecting its charity partner.
A total of £4,279.50 was raised for the charity at the tap-to-donate points throughout the venue and through online ticket donations. That money will all be spent in the Bradford and Craven districts to support people experiencing mental health difficulties, so no-one needs to struggle alone.
Mind in Bradford also hosted a special night for 150 local business representatives, Bradford Council members, faith leaders and health care workers at the Grade II listed Regency Hall, which gave the opportunity for them to find out more about the vital mental health services they offer people of all ages across the district.
CEO Helen Davey said "We are very grateful for the generosity of visitors to this amazing exhibition, and for being selected as its official charity partner."
Greg Talbot, Head of Events at Active Sport and Entertainment said " it was an honour to be able to raise this amount for a valuable charity. We thank all the visitors for visiting the exhibition and contributing to such a worthwhile cause."
Raj Parmar, Events Director at Regency Hall said "it is truly humbling to hear the fantastic amount raised by visitors to the Van Gogh Alive exhibition at Regency Hall. Approximately 1 in 4 people in the UK will experience a mental health problem each year and these vital funds will go a long way to help people especially in the Bradford district."
For information on the work the charity does, please visit https://www.mindinbradford.org.uk/