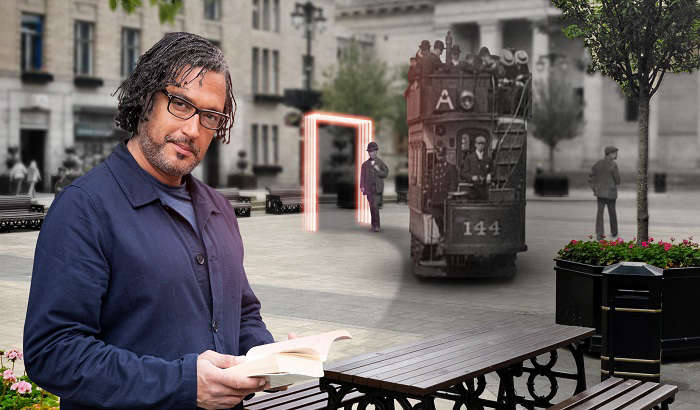 StoryTrails David Olusoga BFI Nexus and Uplands landscape
People in Bradford and beyond will be invited to travel through place and time to uncover untold stories from the local area
In celebration of Local and Community History Month, new details are being released about StoryTrails, the unique immersive storytelling experience coming to Bradford and 14 other UK towns this summer. StoryTrails will use the latest multimedia technologies so people can see their town's past, present and future collide.
Part of UNBOXED: Creativity in the UK, a ground-breaking nationwide celebration of creativity in 2022, Story Trails will allow local people to experience Bradford in a completely new way through the magic of augmented and virtual reality.
Bradford will host StoryTrails for a two-day live event from 22-23 July at City Library Bradford.. This unmissable experience will offer fun for all the family, featuring a bespoke augmented reality (AR) story trail and a unique, immersive virtual map of the town created using the stories of local people, and showcasing 3D scans of Bradford's beloved buildings and iconic places in each location, such as Holmewood estate, the Odeon and Valley Parade.
Hafsah Naib and Karol Wyszynski, the local creatives working on the project, are using Local and Community History Month, which aims to increase awareness of local history, to put a spotlight on the developments that are well underway locally and encourage everyone to participate in StoryTrails this summer. The creatives have been uncovering a myriad of stories and personalities across Bradford, highlighting the town's diverse and unique community, many of which will feature in the final experience. These include Katie, who runs a theatre company at The Rockwell Community Centre and who looks to bring the art and support to local low-income residents; Mark, who used to sneak into the University of Bradford to practice piano and expand his passion for music; and Angie, who moved to Bradford following personal misadventures and used to escape in the world of cinema at her local Odeon.
Across all 15 locations, visitors will also be given the chance to enter digitally created worlds by putting on a virtual reality (VR) headset. These VR experiences will be available at every stop on the StoryTrails tour. Highlights include 'Get Punked!', which puts users in the shoes of a rebellious teenager finding out about her mother's punk past; in 'Off the Record', they will take part in the daytime South Asian raves of the 2000s, while in 'Museum of Imagined Futures' they will dive into past to find out what our ancestors thought life would be like today and beyond! The creative companies producing the VR experiences have worked with academics from Royal Holloway, University of London, to create rich virtual worlds across a variety of themes.
Further 'time travel' will be guided by historian and television presenter David Olusoga, in an AR experience that will let visitors travel back in time by turning a dial on a virtual giant radio. As they turn the dial, their virtual neighbours' stories and fashion will change with the era, from Beatle-mania and the flares and haircuts of the swinging sixties to dancing to the end of the millennium and Y2k in crop-tops from the 1990s.
Karol Wyszynski in Bradford said: "The stories we are uncovering of the people in Bradford are truly amazing. It was just a pleasure meeting so many incredible people. From Bangladeshi women supporting Bantams to ghosts in the old mills, from horses of Holmewood to the 1in12 Club, every place and every community has something incredible to tell. Local history month is so important but our ambition is that, by using new technologies, we can inject a passion for history into people all year round. I'm really looking forward to seeing people's reaction when they immerse themselves in this epic adventure of storytelling using the latest innovative technologies, and I think they'll get to perceive their city in a new light. This project is about encouraging people to reassess what they know and develop new perspectives. It's also about having fun, and I have no doubt that people in Bradford will love the footage, pictures and stories we've unearthed."
Professor James Bennett, Director of StoryFutures and StoryTrails, said: "Local and community history month is the perfect time to release more information on the magic of StoryTrails. We can't wait to immerse the people of Bradford, in the untold stories of their own communities and beyond. This about living and breathing local history and connecting with it in new ways. Get set for a summer of discovering the past and the future and some genuine surprises, all while having a fun day out!"
Martin Green CBE, Chief Creative Officer UNBOXED: Creativity in the UK said: "StoryTrails invites audiences to discover hidden histories in communities across the UK using immersive technology as a window onto the past. StoryTrails is one of ten ground-breaking UNBOXED projects taking place in 2022 that demonstrate the power of creative collaboration across science, technology and the arts to create extraordinary and never-seen-before public experiences."
Led by StoryFutures Academy, the national centre for immersive storytelling, StoryTrails has been developing the best and brightest creative talent from across the UK to create unique experiences as part of Britain's largest ever immersive storytelling project.
StoryTrails is one of 10 projects commissioned for UNBOXED: Creativity in the UK, a ground-breaking UK-wide celebration of creativity in 2022 that will bring people together and reach millions through free, large-scale immersive installations and globally accessible digital experiences in the UK's most ambitious showcase of creative collaboration.
UNBOXED: Creativity in the UK is funded and supported by the four governments of the UK and is commissioned and delivered in partnership with Belfast City Council, Creative Wales and EventScotland.