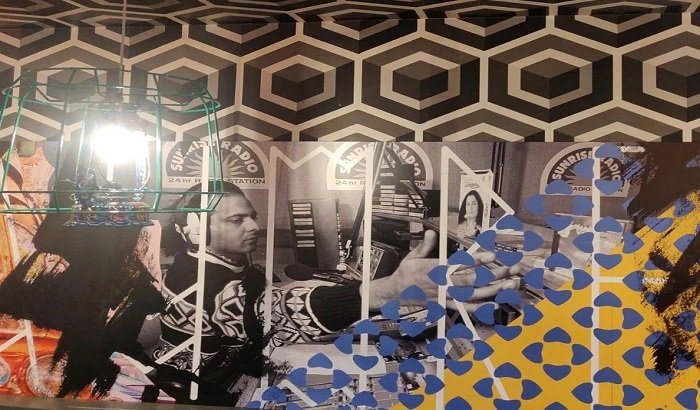 MyLahore Manchester features an iconic picture of Sunrise Radio studios in new design.
MyLahore started in Bradford in 2002 from humble beginnings by cousins Asghar Ali and Shakoor Ahmed and is today an iconic multi-site restaurant and catering business that employs over 450 people from around 27 different nationalities. It is still family-run and has restaurants in Bradford, Leeds, Manchester, Birmingham and London.
Sunrise Radio also based in Bradford, launched in 1989 as the worlds first independent Asian commercial station on FM and today broadcasts across Yorkshire via FM, DAB, Mobile / Tablet App, Apple TV and Alexa enabled devices. Sunrise Radio launched its Manchester service available via DAB+ in the city due to growing demand from the Asian community who voiced their concerns about the lack of Asian radio available in the area.
The picture, taken in the early 90s features Sunrise Radios previous base in Little Germany, Bradford.
Director of Sunrise Radio, Raj Parmar "I am truly honoured and humbled by the inclusion and recognition by MyLahore. I have seen first hand the hard work, level of dedication and commitment from day one to now by the MyLahore family. Both businesses are very proud of our Yorkshire roots and have over the years expanded into additional territories across the UK. What brings people from all backgrounds together more than food and music. I would also like to take this opportunity to personally thank the MyLahore team specifically Shak, Ishfaq, Asghar, Ghaf and the rest of the team for all the support over the years"
Managing Director of MyLahore, Shakoor Ahmed said "Both Sunrise Radio and MyLahore are based around the ethos of family values and entertaining whether it be via food or music. Sunrise Radio has been an integral part of community cohesion across communities, so it was only natural to recognise Sunrise Radio's contribution to the Asian community by including them in our design. Our restaurants are now open with hygiene and safety guidelines in place and we look forward to welcoming you guests through our doors".
For further information and locations on restaurants visit www.mylahore.co.uk