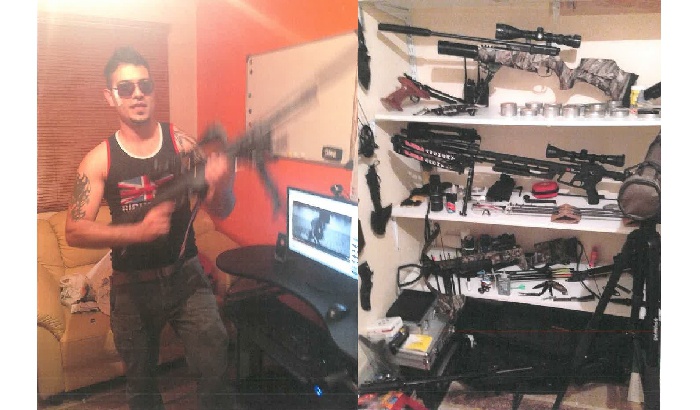 Photo Credit - WYP
A man has been jailed for 20-years after systematically targeting police officers, police staff, a solicitor and judge.
Ashkan Ebrahimi, 33, of Oak Lane, Halifax, was sentenced yesterday (12 June) at Bradford Crown Court after being found guilty of possessing explosives with intent to endanger life, possession of an offensive weapon, possession of a bladed article in a public place and stalking offences.
The court heard how Ebrahimi became obsessed with revenge against the authorities after he was issued with a non-molestation order against his former partner from the County Court and was subsequently separated from his young child.
A large amount of chemicals were recovered from Ebrahimi's address, along with an extensive collection of weapons including knives, swords, crossbows and high powered air rifles.
Senior Investigating Officer, Detective Chief Inspector Warren Stevenson said; "Ebrahimi is a very dangerous individual who posed a significant and very serious threat to police officers, police staff, solicitors and the judiciary.
"He developed a deep seated and consuming hatred and loathing for people in authority, in the main police officers and set about research and planning his limitless revenge against them.
"The volume of weapons, substances and associated material recovered from his property were to enable him to commit the most serious harm to others and I strongly believe that he would have eventually executed his plans in harming a police officer on the streets of West Yorkshire."