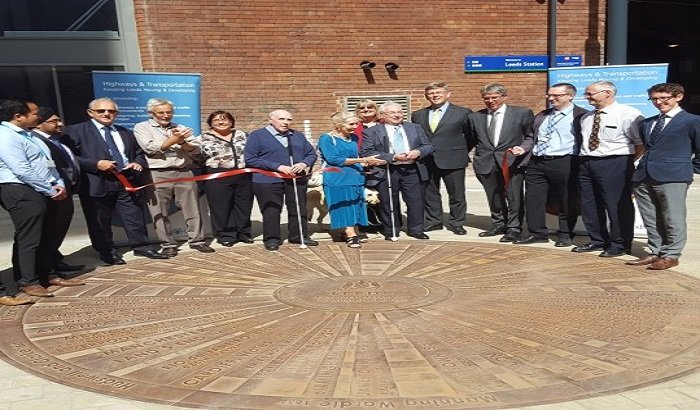 Improved access to the new southern entrance of Leeds Station is now available following the completion of refurbishment work on Little Neville Street.
Little Neville Street has undergone a £500,000 facelift by Leeds City Council with support from West Yorkshire Combined Authority. The result is a new public space and easy access to and from the station from the south-east of the city centre.
The street now features natural stone seating as well as a newly-planted tree along with cycle racks, CCTV, a new road surface and stone paving. The centrepiece of the space is a new cast-iron compass rose, celebrating the area's rich industrial heritage complete with directions to key locations near and far listed on all points of the compass. The design involved valuable input from representatives of Leeds City Council's equality hub who were involved in shaping the street work to make it as inclusive as possible.
Little Neville Street is now a pedestrian and cycle zone, but includes two time-limited disabled parking spaces for access to and from the station. Facilities for general motorised traffic will remain at the entrances off New Station Street and Aire Street.
As well as improving access to the station, the revamped space also offers a direct connection to the Dark Arches, with greater footfall for local businesses expected as part of the 20,000 people using the station's southern entrance each day.
Leeds City Council executive member for regeneration, transport and planning Councillor Richard Lewis said:
"We are very pleased that the work on Little Neville Street is now complete and the result is an attractive public space offering improved access to and from the station as well as the Dark Arches and the South Bank."
"We look forward to seeing it being well used each day and would like to thank the surrounding businesses especially Hilton Hotels, Direct Line and the Golf Bar for their support and patience while the work was being carried out. On the South Bank we are currently seeking views of as many people as possible on proposals for the area so I would encourage everyone to get involved in that consultation."
Head of Disability and Diversity at the Access Committee for Leeds (ACL) Tim McSharry said:
"With appreciation to Councillor Judith Blake and Councillor Richard Lewis and Leeds City Council`s core focus on community engagement and co-production, the design and development process for this scheme should be applauded. From the first blueprint to spades hitting the ground, this scheme has been an exemplar of meaningful community engagement and a true partnership linking the council`s highways team and members of the Leeds Disability Hub, working jointly to deliver a truly innovative public environment that embraces the inclusion, mobility and independence of all who may access the Leeds Station Southern Entrance."