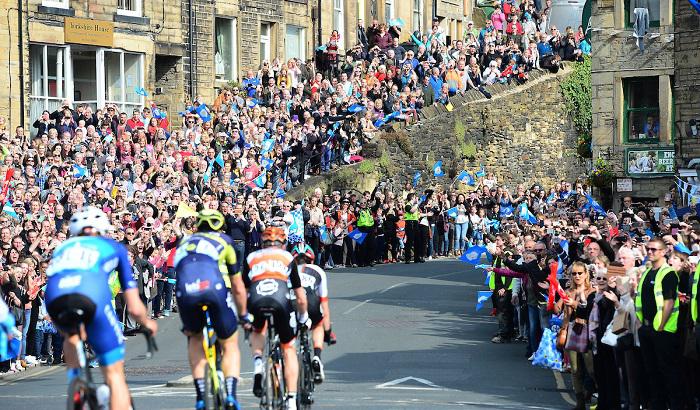 Photo Credit - SWPix.com
Communities across the Bradford district are being encouraged to apply for grants to help them take part in two competitions to celebrate the Tour de Yorkshire coming to the district.
The organisers of the Tour de Yorkshire, Welcome to Yorkshire, have launched a Land Art competition and also a competition to find the Best Dressed village or town along the race route.
To celebrate two stages of the race coming to the Bradford district in May, Bradford Council is offering grants to help communities make the most of this prestigious event.
The grants are being offered to help people put on events and activities along the race route.
Last year the district had two pieces make it to the final of the Land Art competition, with a piece of art by the Worth Valley Farmers Group and pupils from Haworth Primary School winning the public vote.
The group received grant funding from Bradford Council to help them with their creation entitled 'Branwell on a Bike', which was made out of recycled materials and celebrated the 200th birthday of Branwell Bronte.
Anyone interested in taking part can email rashmi.sudhir@bradford.gov.uk or karen.lewis@bradford.gov.uk or telephone 01274 432653 or 01274 432416.
The closing date for applications is Friday, 6 April.