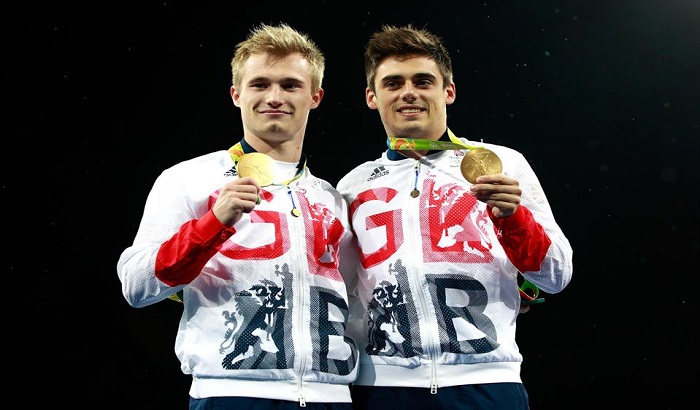 Local lads Jack Laugher and Chris Mears came through an almighty battle to become Team GB's first diving champions in the history of the Olympic Games after the men's 3m synchro final.
The British pair clinched the title by a mere 4.11 points at the Maria Lenk Aquatics Centre, scoring 454.43 to finish ahead of pairs from USA (450.21) and China (443.70).
China had already won all three of the other synchronised diving titles in Rio, adding to their record of 19 golds from 24 available at the past three Games.
But world champions Cao Yuan and Qin Kai couldn't compete with the Brits on the day, as Laugher and Mears took charge of the lead in the third round and kept their noses in front throughout.
"It's fantastic to win Britain's first Olympic gold in diving," said Laugher, who will also compete in the individual 3m in Rio.
"We only found out that it was the first gold medal before the podium. It's one of the first on springboard as well so we're so overwhelmed with what we've done.
"The dream has happened and it's paid off and we're ecstatic with how we've done."
Mears added: "We just stayed in our zone. We didn't know how many points we needed. I wasn't concentrating on that.
"All I concentrated on was landing on my head on my dive. I did that and so did Jack so we came out on top."
Leader of Leeds City Council Councillor Judith Blake said:
"Massive congratulations to our City of Leeds divers Jack Laugher and Chris Mears for their stunning and historic Olympic gold medal success for Team GB tonight. They put in a fantastic performance and their wonderful achievement is testament to the superb diving facilities at the John Charles Centre for Sport and the efforts of our coaching team led by Ady Hinchliffe and Edwin Jongejans. We are absolutely thrilled for them all and can't wait to celebrate Jack and Chris's success when they return to Leeds."
The pair train at the Leeds City Council-managed John Charles Centre for Sport and compete for the City of Leeds club.
To honour their incredible achievement Leeds Civic Hall will be lit up in a special golden colour tonight.