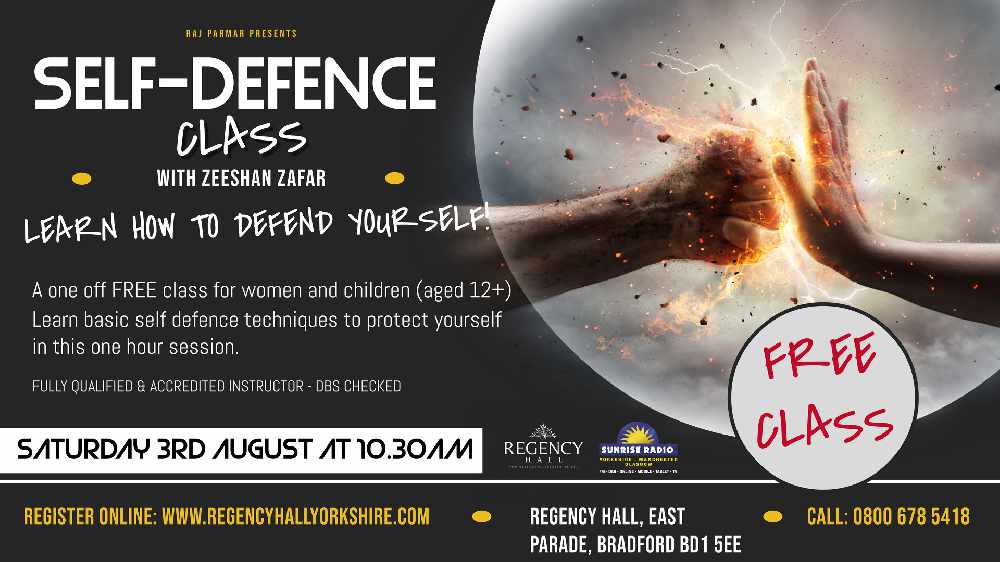 A free self-defence class for children aged between (12 – 15 years of age) and women will be taking place on Saturday 3rd August at the magnificent Regency Hall in Bradford.
The free one-hour class has been organised by Raj Parmar, Actor and media personality.
The class will be conducted by Zeeshan Zafar, a Tae Kwon Do expert with numerous awards under his belt.
Mr Zafar first started training Tae Kwon Do in 1995, returning back in 2004 to achieve his Black Belt he has been training under the instruction of Master Kenny Walton 8th Dan, British national coach and chief instructor for the North of England.
Mr Zafar strives to uphold the highest standards of fitness and martial arts education with integrity, empathy and care.
Zeeshaan Zafar runs classes every Monday and Wednesday between 6pm-7pm at Howden Clough Community Centre, Leeds Road, Birstall, WF17 0HY
A regular on Sunrise Radio, Raj was last seen on TV in 2014, in the British documentary Big Ballet broadcast on Channel 4 and subsequently on Netflix. Competing against almost 500 other aspiring ballet contestants, Raj ultimately won a place in the 18-member dance troupe. Raj was the only Asian member of the troupe and one of two males.
The three-part documentary saw Raj train under dancer Wayne Sleep and eventually play the role of the villain Baron von Rothbart in the ballet Swan Lake.
The series also aired in the US and in France. In the same year Raj made a weeklong guest appearance on India's biggest drama serial, Saraswatichandra.
Raj Parmar said "I feel very strongly about Children and women being able to defend themselves particularly in light of attacks on individuals across the country. We are constantly reminded in media of what a dangerous society we live in. One of my main objectives is to empower individuals with vital self-defence skills."
Zeeshan Zafar said "When I was first approached by Raj I was happy and excited to be able to teach self defence techniques which are useful for protecting one self. As a fully qualified and accredited teacher this is a very worthwhile project initiated by Raj and I am glad to be working alongside him. We look forward to hopefully making this a regular class"
The class takes place on Saturday 3rd August 2019 at Regency Hall, East Parade, Bradford BD1 5EE from 10.30am – 11.30am.
Numbers are limited and Registration for the one hour class is strictly available via http://regencyhall.eventbrite.com/