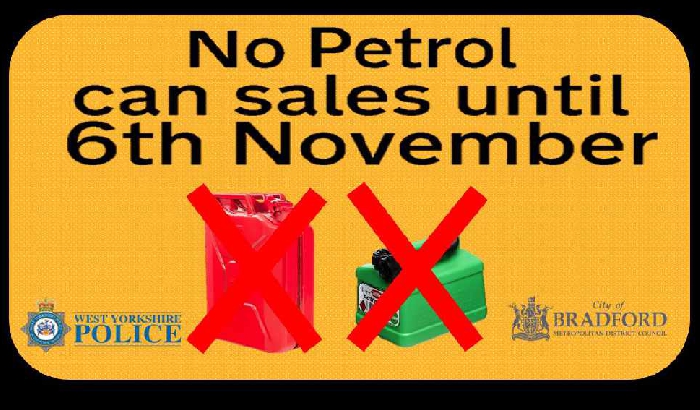 Filling stations in Bradford have suspended sales of petrol in cans ahead of bonfire night amid fears of 'anti-social use'.
Ahead of bonfire night signs have appeared outside filling stations across Bradford indicating no sales of petrol in cans will be made until 6 November.
The signs have been backed by West Yorkshire Police, Bradford Council and West Yorkshire Fire and Rescue Service following a series of incidents of anti-social behaviour in the lead up to Bonfire Night.
Regarding the signs a spokesperson for Bradford Council said: "Because of anti-social use in the past, Bradford Council, the fire service and the police agreed to ask petrol filling stations in some areas of the city to refrain from selling petrol in cans until Bonfire Night has passed.
"We are grateful for the co-operation of retailers who were willing to help us to try to keep any anti-social behaviour to an absolute minimum and to help keep people safe, which is a shared priority."
Bradford has seen several instances of anti-social firework use of the past weeks, with two incidents of youths throwing fireworks on Oak Lane occurring in as many days.
Subsequently West Yorkshire Police has revealed it will be working closely with the fire service and urged people to follow advice on the safe purchase and use of fireworks.