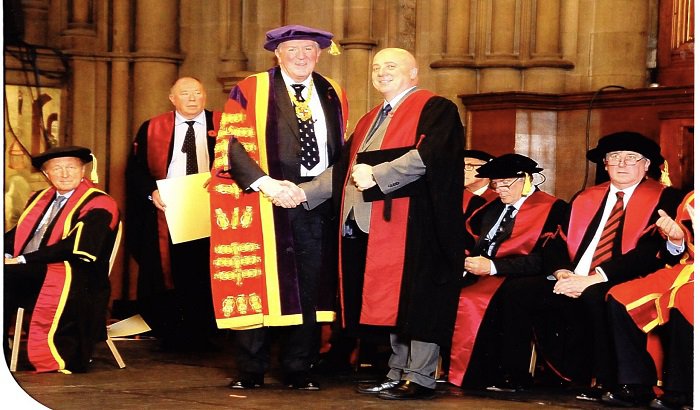 Photo Credit - Bradford NHS Foundation Trust
A Bradford doctor has been presented with a Fellowship in recognition of his contribution to educating the breast surgeons of the future.
Rick Linforth, 49, has worked at Bradford Teaching Hospitals NHS Foundation Trust as a consultant oncoplastic breast and reconstructive surgeon since 2006.
He was presented with his award at Manchester Town Hall by the president of the Royal College of Surgeons (RCS) England, Professor Derek Alderson.
Mr Linforth said: "The Fellowship in General Surgery was awarded to me for services in education and training in breast surgery delivered at the RCS, on behalf of the Association of Breast Surgery of Great Britain and Ireland, over the last decade.
"It's a great honour and one which would not have been possible without the support of my colleagues at the Foundation Trust.
"I sincerely believe in providing our patients with individual, personalised, high-quality care while, at the same time, empowering them to maintain and improve their health after surgery.
"Educating patients and working with them to achieve the best physical state possible is something I hold very dear and instil in my teaching to my junior doctors and newly appointed consultants."