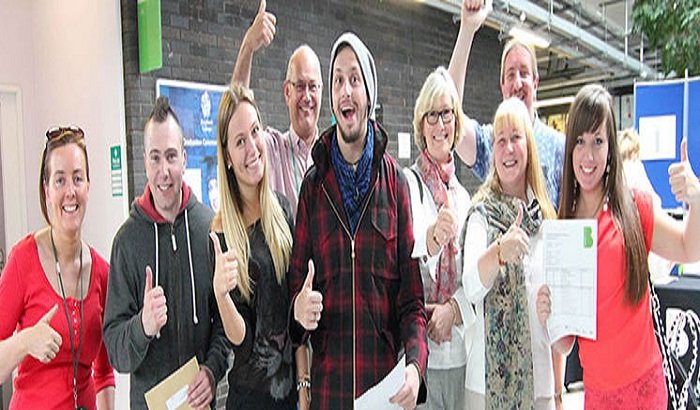 Students and staff at Bradford College Sixth Form are celebrating today after A Level overall pass rate reached 96.1%, with 9 out of 15 subjects seeing 100% pass rates (similarly all 9 subjects were above the national average), and a further 3 subjects achieved greater than 90% pass rates.
The Sixth Form is also celebrating 97.6% pass rates for English and Maths, which is a 3.3% increase on last year.
Anthropology scooped 100% pass rates - a staggering 10% above the national average.
Alongside the Sixth Form, the College's School of Art and the Northern School of Creative Industries celebrated as 85% of A Level Media Studies and 80% of Film Studies students achieved A*- C grades.
The college also celebrated AS Level results for courses including; English Language and English Literature, Film Studies and Business Studies which all achieved 100% pass rates, with Business Studies smashing the national average by 19%, seeing a 35% improvement from last year. Science subjects also achieved a 1.8% lead over the national average, with Applied Science scoring a pass rate of 96.9%. Finally Media Studies secured an impressive 97.4% overall pass rate.
Students collected their results from the College's new £50m Campus, The David Hockney Building, and celebrated their individual success, as well as that of their friends, with their tutors and College staff.
Group Chief Executive Officer, Andy Welsh, at Bradford College said: "Every year I am so proud of how hard our staff and students work and this year's results once again highlight how much effort has gone into this year's studies."
Head of Department Academic, Art, Science & Maths, Anita Lall, at Bradford College Sixth Form said: "We are really pleased with how well the results have gone.
"The students have worked really hard to achieve their results. We are proud of them and they should be very proud of themselves.
"We are expanding our sixth form provision so this is a very strong foundation on which to do that.
"More students than ever have applied to come to do A Levels with us next year and we look forward to more celebration days like today."
On 25th August, to coincide with the announcement of GCSE results, Bradford College is hosting an 'Open Day' for students and their families to find out more about the further and higher education opportunities the college has to offer.