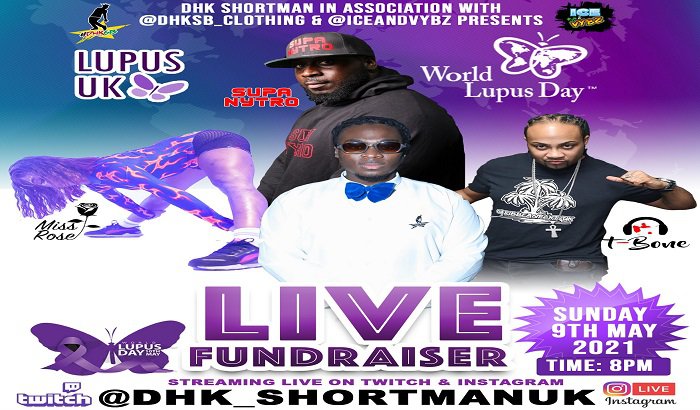 A variety of Artists will come together for an Instagram live to fundraise for Charity Lupus UK, organised by Bradford based Professional dancer DHK Shortman
DHK Shortman is a professional Dancehall Teacher, Instructor & Choreographer with many accolades to support his years of experience within the Dancehall industry. He teaches regular Dancehall Classes, and also regularly travels internationally to teach at workshops and other events. He is one of the frontrunners in the UK Dancehall Scene and has created iconic moves that are used by Dancehall dancers worldwide.
DHK Shortman was diagnosed with Lupus at the young age of 11 and since then has strived to be an advocate for Lupus awareness and has continued to dance and perform much to the surprise of Doctors and medical specialists.
Systemic Lupus Erythematosus can affect many parts of the body in several ways such as causing joint pain, fatigue, kidney failure and many more serious effects on the organs and nervous system and as yet there is no known cure.
LUPUS UK are the only national registered charity supporting people with systemic lupus and discoid lupus and assisting those approaching diagnosis. They presently have over 5000 members and regional groups who arrange medical talks, publish local newsletters, set up social occasions and fundraising events.
LUPUS UK also produces and informative magazine with lupus articles, letters, reports and photographs and operate a strong Grants Programme for research purposes and welfare.
DHK Shortman has organised the charity fundraiser to raise funds to support LUPUS UK, in which he will display his dance & entertainment talents along with some other entertainers. This will be broadcast live on Instagram and Twitch at 8pm on the 9th May 2021. During this live event there will also be a raffle to give away some prizes that have kindly been donated by local businesses.
"I'm putting on this event to create awareness and to inspire others to continue at the best of their ability to pursue their passion and follow their Dreams." he said.
Entertainers participating in the fundraising event include:
Supa Nytro who is a is a Dj, Host and an international Artist who is currently dominating dancehall music!
Miss Rose who is a talented female Dancehall dancer and entertainer and artistic director.
T-bone who is a multi talented Dj and Dancer and event organiser with experience in both the Dancehall and Soca industries.
Raffle Tickets are available by calling or messaging 07838552151 or donations are welcome via Paypal.me/dhkshortman
Cash app- £dhksb
The event will be live on @DHK_SHORTMANUK instagram page on the 9th May 2021 at 8pm or on twitch at : DHK_Shortmanuk
Parental caution is advised as some music may contain explicit lyrics.