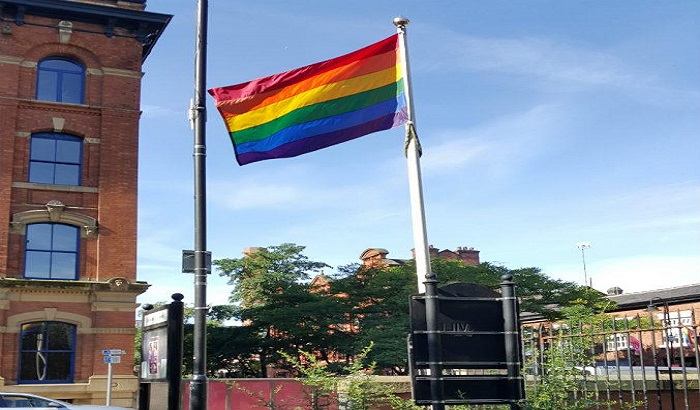 Manchester may be well known for its cloud cover but in one city centre park there's to be a permanent 'rainbow'.
Manchester's LGBT Foundation has agreed to become the custodians of the flagpole and Rainbow Flag in Sackville Gardens.
The charity plan to hoist flags in celebration of the LGBTQ community in the park.
The Rainbow Flag – a symbol of LGBTQ pride- will commonly be on display but will occasionally make way for other pertinent LGBTQ banners.
Sackville Gardens is a welcoming green space located in the heart of Manchester's Gay Village and provides a hub for many community activities.
Lord Mayor of Manchester, Councillor Carl Austin-Behan, said: "I'm delighted that Manchester's LGBT Foundation will be able to permanently fly a flag in the community space at heart of the Gay Village. Sackville Gardens provides visitors and the local community a place for remembrance, contemplation and celebration. The variety of LGBTQ vigils, and community events held in the park show what an important place the park is for the local community."
"The flags will not only provide a beacon to the identity of the Gay Village but also proudly celebrate the identity, values and rights of the worldwide LQBTQ community."
The National Trans Memorial is located in the park, carved from a solid piece of sycamore, its butterflies signify the transformation process. Sackville Gardens is home the Beacon of Hope sculpture, a permanent memorial for people living with HIV or AIDS and lives lost to it.
The park also contains the memorial statue of celebrated mathematician, Alan Turing . The work depicts the 'father of modern computing' sitting on a bench at a central position in the park. During his lifetime Turing experienced prejudice due to his sexuality - a time when homosexuality was regarded a criminal offence.
Rob Cookson, Deputy Chief Executive of LGBT Foundation said: " It is a real privilege and honour for LGBT Foundation to be asked by Manchester City Council to be the custodians of the Flagpole and the Rainbow Flag at Sackville Gardens. It is an amazing sight to see the Rainbow Flag, and other important flags for LGBT communities, displayed in Manchester. We should never forget how important the Rainbow Flag is as a symbol for LGBT people."