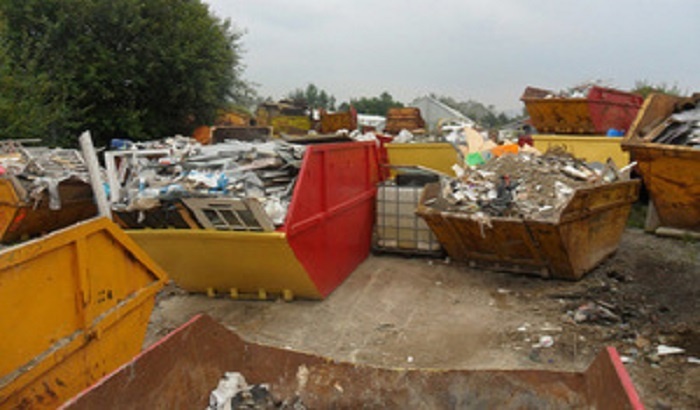 A Bradford-based skip firm has been ordered to pay £27,420 after repeatedly breaking environmental laws.
Sam House Ltd, which runs a waste transfer station on Becks Road, Keighley, was handed the fine by Bradford Magistrates, having pleaded guilty to four environmental offences.
The Environment Agency prosecuted Sam House because it repeatedly stored too much waste on its Becks Road site, and the firm was also found to be running an illegal waste site on Rosse Street in Bradford.
Chris Bunting, prosecuting for the Environment Agency, told the court that investigating officers first discovered permit breaches in April 2013. Mohammed Rashid, the director of Sam House, was storing overflowing skips on the roadside, outside of his Keighley premises, and he had four times the amount of waste allowed on the site, far in excess of the 10-tonne limit allowed.
The Environment Agency served a legal notice on Sam House in October that year, requiring Rashid to reduce the amount of waste on the site within a month. This work was carried out, but an inspection in June 2014 revealed that the transfer station was once again being used to store excessive amounts of waste: approximately 75 tonnes were present, and some was stored on unmade ground.
Further inspections revealed similar permit breaches, but despite being warned, Rashid continued to break environmental laws. An inspection in May 2015 revealed around 100 tonnes of waste stored on the site.
Two legal notices were subsequently served on Sam House in 2015, requiring the excess waste to be removed, but both were ignored.
Investigatory work by the Environment Agency revealed that Sam House was also operating an illegal waste site on Rosse Street, Bradford. Here, officers found 42 skips full of waste and 40 empty skips, standing on bare ground, containing plastics, glass, uPVC frames, furniture, pallets, rubble and garden waste.
An enforcement notice was used to get the company remove the waste. The firm complied, but analysis of waste transfer notes relating to the removal work revealed that the waste had been misdescribed and the volumes under-recorded.
In mitigation, Rashid said he hadn't researched waste management legislation before taking over the permit. The sites have now been cleared and the company is to be dissolved.
Rita Reid, team leader at the Environment Agency, said after the hearing:
"Waste operations like this can have a detrimental impact on the environment and local communities. That's why it is vital that waste operators stick to the rules and meet the conditions of their environmental permits."
"Sam House repeatedly broke the law, showing little regard for the environment. At the permitted site in Keighely, too much waste was stored, and some of it on unmade ground, posing the risk of pollution, and the company was also operating a completely illegal waste site in Bradford."
"We hope this case demonstrates the importance of environmental compliance. Anyone who breaks the rules will be pursued, and where repeated or significant breaches are found, we will prosecute."
Sam House was fined a total of £18,800 for the offences, and ordered to pay legal costs of £8,500 plus a surcharge of £120.