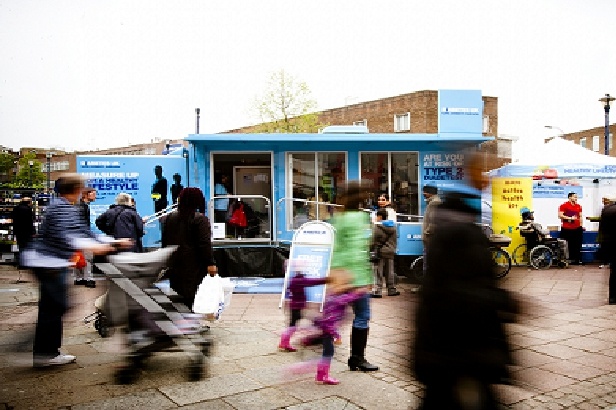 The people of Bradford are invited to find out their risk of getting Type 2 diabetes and get valuable information about how to reduce it at Diabetes UK's Know Your Risk Roadshow which rolls into town on 1st and 2nd September.
The Know Your Risk Roadshow, delivered by Diabetes UK in partnership with Tesco, will be at City Park from 9am- 4.30pm and members of the public can visit to find out their risk of Type 2 diabetes, free of charge, by answering some simple questions and having their height, weight and waist measured.
Stephen Ryan, Head of the North at Diabetes UK said: "In the UK, 11.9 million people are at increased risk of developing Type 2 diabetes and in Bradford alone 7,553 people are living with Type 2 diabetes. Left untreated or poorly managed diabetes can cause devastating complications such as amputation, blindness, kidney failure and stroke.
"However, three out of five cases of Type 2 diabetes can be prevented or delayed through adopting a healthy lifestyle and taking steps to reduce risk of developing the condition. At the Know Your Risk Roadshow, people of Bradford can have a private chat with our friendly volunteers and dietitians who can help them identify small lifestyle changes they can make now to improve their future health, and delay or even prevent them from developing Type 2 diabetes.
"There's nothing scary about our Roadshow and no blood tests. Finding out your risk doesn't take long, but is key to helping to ensure you have the best chance of living a long and healthy life."
Caroline Silke, Head of Community at Tesco said: "Our customers tell us they want us to make it a little bit easier for them to live more healthily, and it's great that the money raised for Diabetes UK by Tesco colleagues is going to fund the Know Your Risk roadshow for the third year running."
Unlike Type 1 diabetes which is not linked to lifestyle and cannot be prevented, the most important risk factor for developing Type 2 diabetes is being overweight or obese, especially if you are large around your middle. This is something people can do something about by maintaining a healthy weight through eating a healthy diet and taking regular exercise. Other risk factors for Type 2 diabetes, which cannot be changed, are ethnicity – being African-Caribbean, Black African, South Asian – being aged over 40 (or over 25 if you are South Asian), and having a parent, child, brother or sister who has diabetes.
In the UK, there are four million people who have diabetes, of which 549,000 have Type 2 diabetes but do not know it as they have not yet been diagnosed. With these figures set to rise it's crucial that people find out their risk and make changes now to delay or even prevent developing this serious health condition.
For anyone who can't attend the Roadshow in Bradford, you can find out your risk of Type 2 diabetes online at diabetes.org.uk/knowyourrisk For more information about diabetes, visit www.diabetes.org.uk