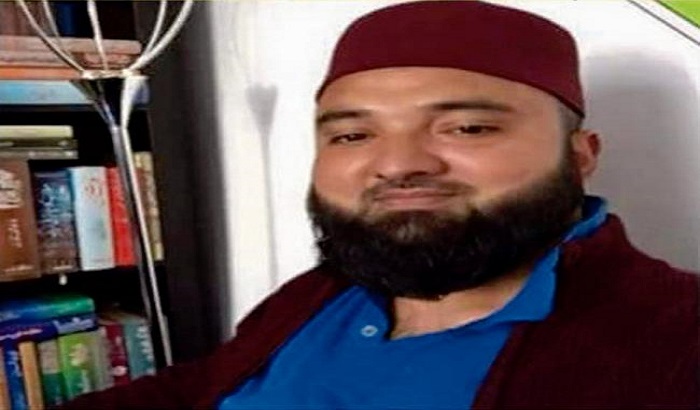 A 32 year old Bradford man has been jailed for life to serve a minimum of 27 years after he admitted the religiously-motivated murder of a Glasgow shopkeeper.
Tanveer Ahmed (pictured) stabbed Asad Shah outside his store in Shawlands after viewing facebook messages and videos the victim had shared online.
The High Court in Glasgow heard that on 24 March this year having driven from Bradford, Tanveer entered the newsagents on Minard Road and began arguing with Mr Shah, who was serving customers from behind the counter.
Ahmed produced a large knife, went behind the counter and carried out a sustained, brutal attack on his victim.

Mr Shah was dragged outside the shop where the relentless attack continued with Ahmed striking, stabbing and stamping on him. The brother of Mr Shah attempted to intervene in an attempt to halt the attack but was unable to do so.

The Lord Advocate, James Wolffe QC, said today:

"Asad Shah was a well liked and respected member of the community who was savagely murdered by a total stranger.

"This was a brutal, unprovoked and relentless attack on an unsuspecting victim. It has left his family and friends devastated at the loss of a kind and peace loving man.

"Tanveer Ahmed's crime has rightly been condemned by communities across Glasgow and the rest of the country.

"Tanveer Ahmed has committed the gravest of crimes and he will now serve a very lengthy period in jail as a result of his actions."
Mr Shah was an Ahmadiyya, a minority sect often persecuted for their beliefs and was very vocal in his diverse Scottish community sharing messages of love and peace.
At the High Court in Glasgow Judge Lady Rae told Ahmed he must serve a minimum term of 27 years for what she called the "barbaric killing of a peace-loving man" in "an appalling display of merciless violence".
Dr Mohammed Iqbal, President Ahmadiyya Muslim Association- Bradford said after today's sentencing "A life sentence to Tanveer Ahmed means that Justice has been done for the killing of Assad Shah. The loss of an innocent life can never be replaced but at least religious bigots like Tanveer will know that they cannot take the law into their own hands. This was a horrible Hate Crime and I hope people will wake up and realise what prejudice against a particular community can lead to. We all need to work together to stamp out intolerance in Bradford and the rest of the world."