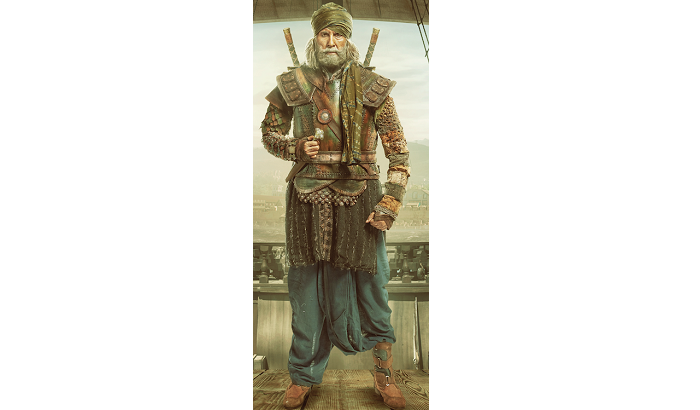 Photo Credit - Yash Raj Films
Thugs of Hindostan is set in 1800s India which saw the rise of the British East India Company who changed its intention to become a conqueror.
Bringing alive this era and yet retaining a touch of fantasy meant that costumes have the most important place in the film. Amitabh Bachchan, who plays the heroic Khudabaksh, has a meticulously crafted costume that echoes his legendary valour.
Costume designers Rushi and Manoshi researched for months to design his unique look that combines armour, leather and the traditional dhoti pants."Our brief for Khudabaksh was that of a warrior who is a farmer at heart. This character has very contrasting personalities. Our costume spoke this brief aloud. We have given him a kurta and the dhoti is absolutely kisan like. The kurta has a cotton and a linen rib with a mulmul lining to give it that softness and on top of that we have given that hard armour which brings out the fierceness of a warrior of Khudabaksh's stature," they explain.
Shooting for Thugs of Hindostan on-board a ship during action sequences with rain and sea waters soaking up the actors was tough. But Amitabh Bachchan, living legend of cinema, sailed through these portions. "The costume designers have gone through a huge process of labour and research to design something," he says, adding, "A lot of the sequences in the armour was shot in rain. The leather use to soak in water and it almost became as heavy as wearing a metal outfit. Yes, It was cumbersome but I think in the interest of the film and in the interest of the character one had to wear it."