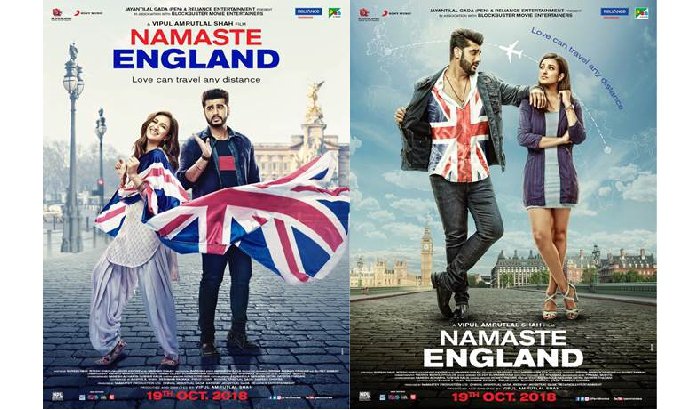 Photo Credit - Reliance Entertainment
The trailer of Namaste England, which has received over 20 million views, has been appreciated by film admirers.
After treating viewers to an interesting promo, Arjun Kapoor-Parineeti Chopra unveil the first song from the movie, Tere Liye.
Set against the colourful backdrop of Punjab, the song showcases the lead actors' romantic journey and the unmissable chemistry blooming between them.
The video depicts an endearing romance grow between Param (Arjun Kapoor) and Jasmeet (Parineeti Chopra). Amidst lush green sunflower fields and the streets of London, the duo proclaim their unabashed love for one another. Jasmeet often breaks into demure laughs on seeing Param go about his crazy business.
While lyricist Javed Akhtar has penned the track and Mannan Shaah has composed it, Atif Aslam as well as Akanksha Bhandari have rendered the track beautifully.
Namaste England's music album has been composed by three eminent music maestros: A disciple of Ustad Ghulam Mustafa Khan, Mannan Shah is a musician renowned for using Indian musical instruments and recording live musical instruments for his compositions; an artist who is Internationally known for his Bhangra tracks, his Hindi remixes and a pioneer of contemporary Indian R & B Fusion Music, Rishi Rich is poised to create a another super hit album with Namaste England; and India's no1 rap king, Badshah, whose international collaborations include Major Lazer to Sean Paul.
From Ludhiana to London, Namaste England is a young and refreshing story that traces the journey of two individuals Jasmeet and Param. It chronicles their love story across the landscapes of India and Europe.
Namaste England, which will reunite Parineeti Chopra and Arjun Kapoor on screen after six long years, will hit cinemas on 19th October 2018.