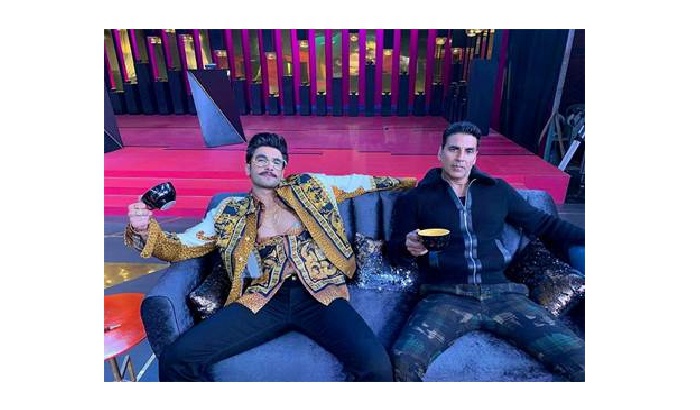 The dynamic duo, Akshay Kumar and Ranveer Singh are all set to make this season the best one yet, just by embracing their entertaining and hilarious selves.
The most-awaited show of the year, Koffee with Karan (debut on 21st October 2018), will witness a series of Bollywood megastars being as candid as it gets. The 'Gold' star, Akshay Kumar, decided to share the couch with a fellow fitness-freak, friend and superstar Ranveer Singh.
The episode, due to air on 11th November, is already being hailed as one of the most exciting ever and the behind-the-scenes have already taken the fans by surprise and left us wanting for more. This episode is undoubtedly expected to be one of the most-loved episodes owing to the actors' unique looks and enthusiasm alike.
Akshay Kumar recently took to his social media to indulge in some PDA as Ranveer Singh and himself plant a peck on Karan Johar's cheeks and captioned it saying : "Not much of a koffee person but the only time I make an exception as @karanjohar knows how to brew it to perfection 😉 Was super fun sharing the couch with @RanveerOfficial #KoffeeWithKaran"