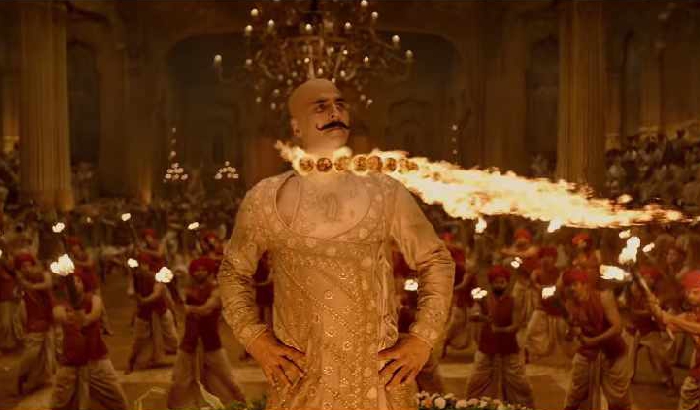 After releasing hits such as Shaitaan Ka Saala, Bhoot and Ek Chumma, the makers of Housefull 4 have released the fourth song from the film titled 'Chammo'.
Chammo is a celebration track from Housefull 4 and is set in 1419 with the films lead actors Akshay Kumar as Bala, Bobby Deol as Dharamputra, Ritesh Deshmukh as Bangdu Maharaj with their respective lady loves Kriti Sanon, Pooja Hedge and Kriti Kharbanda.
Chammo belongs to the era of 1419 filled with the grandeur and epic scale of the Sitamgarh Kingdom. This song occurs when Madhu - Bala, Mala - Bangdu Maharaj, Meena - Dharamputra declare their love for each other.
The song is an entertaining song with a catchy tune composed by Sohail Sen and is sung by the energetic voice of Sukhwinder Singh supported by Shreya Goshal and Shadab Faridi. The music video has been shot on a huge scale with grand sets showing the palace of Sitamgarh and a large number of background dancers have been used in the background.
Akshay Kumar shared the song on social media and said: "Sitamgarh ki iss shaandar shyaam mein aap bhi shaamil ho jaaiye. Tune in to #Chammo Song out now! #Housefull4"
Housefull 4 is an upcoming Indian comedy film directed by Farhad Samji, and co-produced by Nadiadwala & Grandson Entertainment and Fox Star Studios.
The film is the fourth instalment of Housefull franchise and is set to release worldwide ready for Diwali on 25th October.