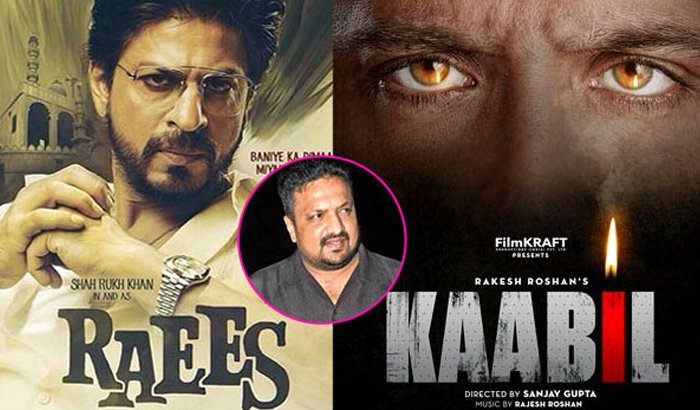 It may be more than a month away but it seems that 2017 is already poised for a blockbuster opening.
Two of the year's biggest releases, Sanjay Gupta's Hrithik Roshan starrer Kaabil and Rahul Dholakia's action-thriller Raees with Shah Rukh Khan in the lead, are set to clash on the Republic day weekend. While neither side has shown interest in moving their dates producer Rakesh Roshan has maintained that the weekend rightfully belongs to Kaabil since he announced the release date first; Raees makers argue they were left with little choice than to pick the same date as Kaabil. "There are only so many Fridays in a year, "they had contented. However, Gupta, who is following up his last outing, Jazbaa, which was met with little enthusiasm, believes that the clash can still be averted.
What do you make of the clash?
I wouldn't say I am in denial but I think the clash could still be averted. In all fairness, Rakeshji did announce the release date first. SRK is a man of principle, a man of his word, he is a Pathan. I can't fathom SRK stepping on someone's toes. I don't know if the films will come on the same day or not but I think they shouldn't. If someone else had announced a film before him, there's no way in hell that Rakeshji would release his film on the same date. That is the respect we need to accord one another.
You sound anguished...
Hrithik is 10 years younger than Shah Rukh. So, I don't see this as a competition. Shah Rukh's competition are Salman (Khan) and Aamir (Khan). Both the films won't do more than a Rs 150-crore in a week because we have a Rs 300 crore box office window at best. When Salman releases a film solo, he gets Rs 300 crore. Shah Rukh should be looking at getting Rs 300 crore for his film and I'm sure he is looking at that possibility. I don't understand why he would restrict the business of his own film. This clash is also going to be detrimental to them.