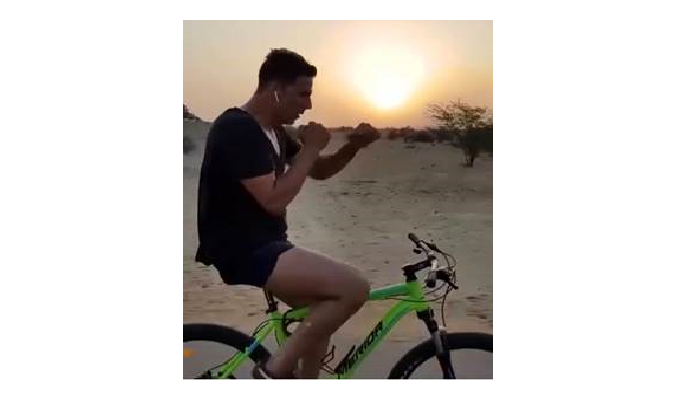 Akshay Kumar is one of the very few superstars to live an unconventional life by waking up before the sunrise and retiring to bed by 10pm.
The megastar often indulges in some high-intensity workout sessions and this time, he does so with a great style.
The actor, who is currently shooting for his upcoming film Houseful 4 in Jaisalmer, took to Instagram to exhibit his "no-handed" cycling skills as he paired it up with some fierce boxing moves.
The video garnered over 1 million views within a few hours of it being posted and impressed his fans with some new ideas to do a core workout, with caution of course.
The 'Gold' actor has always been an advocate of a fit lifestyle and exercise regime, which explains why the 51-year old actor looks young, fresh, handsome as ever and is always ready to take on the world.
The actor shared the video on his official Instagram account and said, "Feeling free like you couldn't believe!! Working my #Core as I cycle No-handed on the deserted roads of Jaisalmer. Life is about Balance & Stability, as Functional as this may be, PLEASE don't try this on the Roads #FitIndia #RiseWithTheSun #Om"