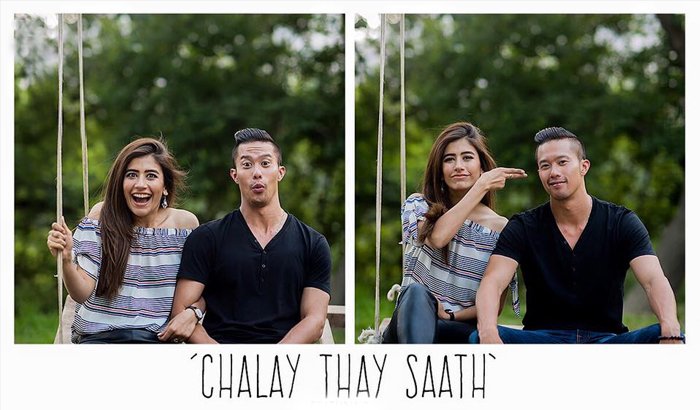 Kent S. Leung and Syra Shahroz's amazing chemistry has us waiting for the movie to release.
Pakistani film industry is still in its reviving phase and each release contributes to its growth. With Lahore Se Aagey and Dobara Phir Se being the most recent releases; our expectations from upcoming films are very high. And with Chalay Thay Saath's teaser finally being revealed, it seems we won't be disappointed this time either!
Starring Syra Shahroz, Kent S. Leung, Behrooz Sabzwari, Mansha Pasha, Zhalay Sarhadi, Shamim Hilaly, Faris Khalid and Osama Tahir and produced by Beenish Umer, Sheikh Shiraz and Umer Adil, CTS aims to bring to the viewers something unique and fresh yet something they can relate to.
The almost 50 seconds long teaser is like a warm cup of tea with its aesthetically pleasing natural imagery and cheerful background music. It shows a glimpse into some interrelated characters taking a road trip together to the Northern Areas of Pakistan and we are left to believe that they just might "find themselves" during the journey.
Apart from the oozing chemistry between Syra Shahroz and Kent S. Leung that is already obvious from this tiny teaser, it also hints a lot of fun and drama mixed together. The teaser comes to a dramatic end with a flash of serious scenes and dialogues that have really gotten us impatient.
All in all, we can't wait for the magic which will unveil when such talented actors and the beautiful Hunza city come together on the big screen.