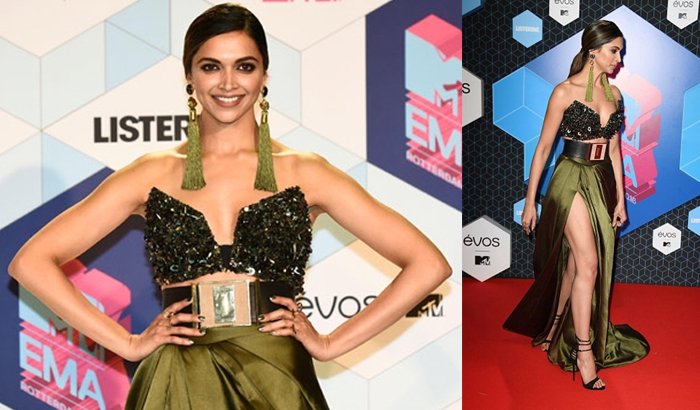 To say that Deepika Padukone slayed the red carpet at this weekend's MTV European Music Awards in her choice of ensemble is an understatement.
The Bajirao Mastani actor was definitely turning heads at her first ever appearance at the red carpet event in Netherlands, however we're not sure whether it was for all the right reasons, or wrong. At Masala!, we think her look was everything we love: bold, edgy and oh-so-stylish! However, that did not seem to be everyone's opinion post the awards show.
Dressed in a metallic bracelet and olive green billowing skirt combo that was a collaborative design by Indian designer Monisha Jaisingh and Deepika's own stylist Shaleen Anathani, she was nothing short of sizzling. That endlessly high slit showed off Deepika's attractive legs perfectly and the choice of colours and fabric are a brilliant staple to reflect Deepika's confident demeanour, especially considering the seductive and aggressive role she will be playing in her upcoming debut Hollywood film, xXx: The Return of Xander Cage.
While Bollywood took to social media, raving about her incredible fashion choice for the night, there were those who thought otherwise. Daily Mail, for example, labelled her look, a "Bollywood Blunder" including her in their list of worst dressed at the MTV EMAs. Is that really a surprise considering the history Daily Mail has had with Deepika? In March, earlier this year, they made a massive blunder of their own. Failing to recognise her, they labelled Deepika Padukone "a female companion" when she was spotted with tennis star Novak Djokovic, and went on to criticise her choice of clothing (which, in our opinion, was quite appropriate for a quiet night out, and in fact on point with Deepika's exquisite taste in fashion). "The leggy brunette slipped her towering figure in a flirty frock which was decorated with a statement floral print and skimmed her knees. The pretty lady teamed her smart one-piece with a black tailored cape-coat and a pair of towering stiletto sandals which further heightened her willowy frame," the daily had commented on DPad's style then. Daily Mail seems to have made their minds up about Bollywood's beloved Tamasha actress, before they even knew who she was. They later amended their article, providing extensive information about her Bollywood profile.
Today, after she walked the red carpet at the MTV EMA, this is what the Daily Mail had to say, "Bollywood Blunder: Indian actress Deepika Padukone may be stunning but her swamp green bralet and skirt combo did nothing for her sensational figure.'' Huh, really?
Deepika Padukone's look is one that is loud and attention- grabbing and understandably, would either be completely adored, or completely loathed. As a fashion statement, we would give her two thumbs up and a wink to go with it, just to reinforce how bomb she looks - and we're sure most of Bollywood would agree with us!
Kudos to the fact that Deepika chose to showcase designers that were from her own country. Deepika's stylist Shaleen Anathani did a brilliant job with those tassle earrings, by Indian brand Valliyan and that Balmain belt adding just the right amount of oomph to the otherwise stunning ensemble.
Keep slaying it with your killer fashion style, Dippy!
Deepika Padukone was seen presenting the Best Music Video Award alongside her co-star Nina Dobrev. Both will be seen in their upcoming Hollywood action flick xXx: The Return of Xander Cage that is set to release in January 2017.