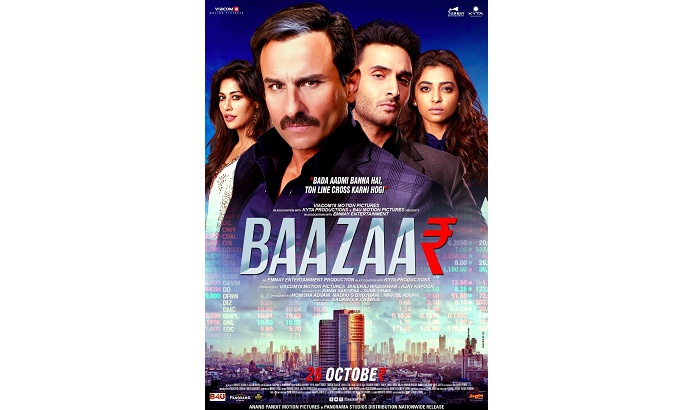 Photo Credit - B4U Motion Pictures
Ahead of the highly anticipated release of high octane, crime thriller Baazaar, B4U Motion Pictures has been hosting a series of high profile screenings across multiple international territories, namely UAE, US and UK.
A special screening of the film took place on Wednesday 24th October at New Jersey's 8K Cinema, while a screening at Dubai at Vox Burjuman welcomed a high profile guest list of leading HNWI and industrialists such as Wali Hashemi, RSG International; Ayaz Farooq, Chairman, Karachi Grill; Atif Rehman, CEO, Danube Properties; and Rizwan Suriya, Managing Director - Gold Crest Dreams.
The screenings have garnered unanimous plaudit and standing ovations, with audiences of all ages and demographics loving the film, raving about the gripping, edge-of-your-seat screenplay, career-defining performances and impeccable direction. The film's dialogues have also been lauded, as has Saif Ali Khan's Shakun Kothari character – a screen avatar audiences have never witnessed before from the seasoned actor. Audiences are recognising the film as a benchmark for new Indian cinema that champions and pioneers new content for new audiences and a global platform.
Sunil Shah, Head of Film Division, B4U Motion Pictures, Producers of Baazaar, says, "We're delighted at the global buzz that Baazaar has created ahead of its release. Beyond regular audiences and lovers of contemporary Bollywood catering for new audiences, the film is garnering huge interest across business communities and industrialist networks globally. We are sincerely thankful to the leading icons of the business world for watching the film and loving it as much as they have. The response has been unprecedented."
Ajay Kapoor, MD, Kyta Productions,Producers of Baazaar, "We're so thankful to the industrialists and business heads that took the time out from their busy schedules to see the film upon invitation and, furthermore, for showing their love for the film. We never expected standing ovations! And, indeed, wider audiences are also connecting with the film. We now look forward to a fantastic opening for the film and beyond."