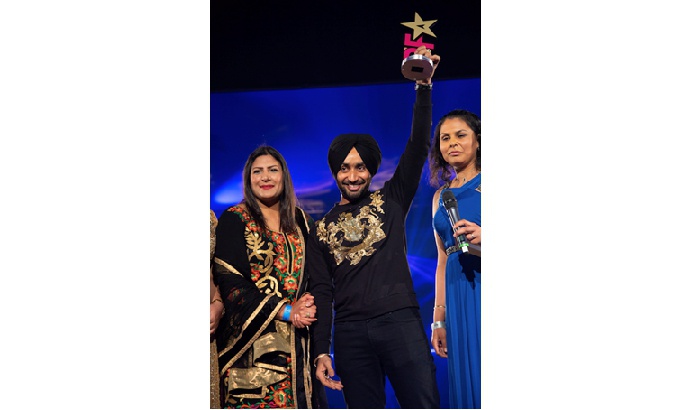 Photo Credit - PFA
Birmingham made history on Saturday 12th May by hosting the biggest Punjabi awards ceremony, which took place in the UK for the first time.
The ceremony was hosted by Punjabi superstar, Jasmine Sandlas, who also performed during the evening alongside Harrdy Sandhu, Sharry Mann, UK born Gurj Sidhu and Sunanda Sharma. The audience was further blown away by a special, surprise guest performance by celebrated Punjabi singer and international superstar, Satinder Sartaaj as well as the appearance of actor and singer Gippy Garewal.
The night was a huge success, with all the nominees and winners being deservingly celebrated and acknowledged for their work and contribution in putting Punjabi cinema on the map.
Punjabi Film Award winners announced on the night:
Best Debut Performance: Tarsem Jassar
Best Female Playback Vocalist: Nimrat Khaira (Dubai Wale Shaikh)
Best Male Playback Vocalist: Diljit Dosanjh (Ho Gaya Talli)
Best Supporting Actress: Nirmal Rishi (Nikka Zalidar 2)
Best Supporting Actor: Karamjit Anmol (Manje Bistre)
Best Film Song: Dubai Wale Shaikh (Manje Bistre)
Best Soundtrack: Sardar Mohammed
Best Cinematography: Chakravarty (Sardar Mohammed)
Best Actress: Sargun Mehta (Lahoriye)
Best Actor: Gippy Grewal (Manje Bistre)
Best Director: Baljit Singh Deo (Manje Bistre)
Best Comedy Performance: Karamjit Anmol (Manje Bistre)
Best Film: Manje Bistre
Additionally, Satinder Sartaaj picked up the Outstanding Achievement, while British Punjabi actress Mandy Takhar picked up the Inspiration Award. Renowned Punjabi comedian Gurpreet Ghuggi went on to pick up the Special Recognition Award.
Gurpreet Ghuggi said: "Today is a big victory for Punjabi cinema. Not only will I congratulate Tony Shergill and BritAsia TV but I will congratulate the whole of Birmingham as you have done something extremely great for the future of Punjabi cinema."
Satinder Sartaaj said: "I am extremely overwhelmed. It's the first time these awards are happening in the UK, and I really appreciate that. Being a part of international cinema, and being a part of the history of Sikhism with The Black Prince - it is really honourable for me. I was only able to do this because of the Punjabis residing all over the globe - the love and affection and their wishes are the treasure of my life. I am so thankful and have such gratitude for the Punjabi diaspora residing here in Birmingham, in the UK, as well as across Europe. Thank you so much BritAsia TV, thank you so much Birmingham."
Gippy Garewal said: "I am very pleased to be here and being honoured in the UK at the very first Punjabi Film Awards in the UK by BritAsia TV."