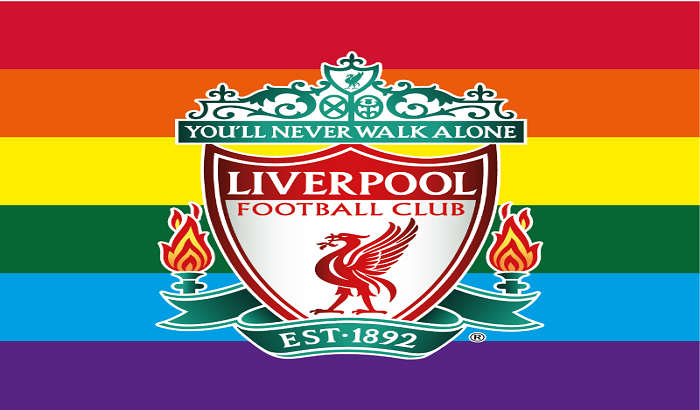 Liverpool FC will wear its colours proudly next month to take part in this year's virtual Pride in Liverpool march – 'MarchOnline'– in support of the LGBT+ community
Pride in Liverpool, which is delivered by LCR Pride Foundation, is hosting its first-ever virtual celebrations due to its traditional festival being cancelled as a result of the coronavirus pandemic.

'Young at Heart' is the 2020/21 theme and aims to highlight the benefits of self-care, being active and doing the things you love as well as your physical and mental wellbeing.

It also strives to provide a platform to celebrate LGBT+ individuals working in the sport, health and wellbeing sectors and shine a spotlight on organisations and services working hard to facilitate good physical and mental health in the region's LGBT+ community.

Instead of marching through the city's streets, LFC staff will join the LCR Pride Foundation's 'MarchOnline' to come together safely with the LGBT+ community to virtually march in solidarity, celebration and in protest against the prejudice and inequalities that the LGBT+ community continues to face, in the UK and across the globe.

The virtual march, which will be broadcast from the LCR Pride Foundation's social channels, at 12 noon on Saturday 25th July, will comprise of videos of people marching, cheering and holding placards in their own homes, submitted by the members of the public, charities and businesses supporting the LGBT+ community.

LFC was proudly the first Premier League football club to take part in a Pride march back in 2012. It was also the first Premier League club to hold the Premier League Equality Standard Advanced Level, which was well received by our fans around the world.

Alongside this year's virtual march, there will be an interview with Paul Amann from Kop Out's – LFC's LGBT+ fan group on the club website and in the matchday programme and Anfield's famous Kenny Dalglish Stand will feature a rainbow flag for the Reds fixture against Chelsea on Wednesday 22nd July.

The Club's iconic crest will also be displayed in full rainbow colours across its global social media platforms from Monday 20th July in support of Liverpool in Pride celebrations.

A signed Virgil Van Dijk shirt (2019/20 season) will also be auctioned on Football Aid, with all proceeds donated to The Michael Causer Foundation – a charity which supports Liverpool's vulnerable lesbian, gay, bisexual and transgender young people by providing safe accommodation for those who are homeless or at risk.