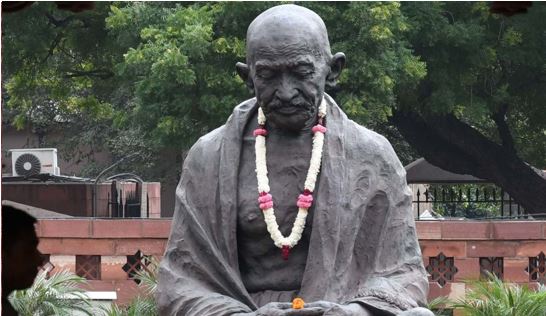 Indian police have revealed that some of Mahatma Gandhi's ashes have been stolen on what would have been his 150th birthday.
The ashes were taken from a memorial in central India, where they had been kept since 1948 when Gandhi was assassinated.
The thieves are also believed to have defaced a mural of the independence leader, branding him a 'traitor'.
Police in Madhya Pradesh confirmed they were investigating the incident on the grounds of actions "prejudicial to national integration" and potential breach of the peace.
Recalling the day of the incident, caretaker of the Bapu Bhawan memorial, Mangaldeep Tiwari, said: "I opened the gate of the Bhawan early in the morning because it was Gandhi's birthday.
"When I returned at around [11pm], I found the mortal remains of Gandhi missing and his poster was defaced."
After his death Gandhi was cremated, although his ashes were not spread in a river as per tradition but were instead sent around the country to various memorials.