Sunrise Radio Manchester
Sunrise Radio (Yorkshire), based in Bradford, will commence broadcasting across Manchester on Digital Radio from Saturday 28th May 2016.
Sunrise Radio (Yorkshire) is exclusive media partner for several events lined up in the Manchester region, starting with 'The Decadent Designer Soiree' taking place at Mercure Piccadilly Hotel in Manchester on 30th May 2016 followed by Pakistan Fashion Week (Manchester Exhibition) taking place on 6th/7th June at Brands by Bombay Stores on Wilmslow Road, Manchester.
Raj Parmar, Events & Marketing Director said "The team is truly excited to be given the opportunity to broadcast across Manchester and serve the community. Sunrise Radio has regularly partnered up with Manchester organisations for events, over the last twenty years. As exclusive radio media partners for the upcoming Pakistan Fashion Week in Manchester, Manchester Mela and several other events, it certainly is going to be an exciting year."
Usha Parmar, Chief Executive for Sunrise Radio said "We are proud to be bringing our award winning service to the diverse communities of Manchester and look forward to further strengthening relationships between the two regions."
David Duffy, CEO of Niocast, Owners of the Multiplex said "we are delighted to be able to give Sunrise Radio the opportunity to broadcast in Manchester."
- ENDS -
To Listen to Sunrise Radio Manchester from 28th May you must re scan your DAB radio. For manual re tuning please scan VHF Block 10B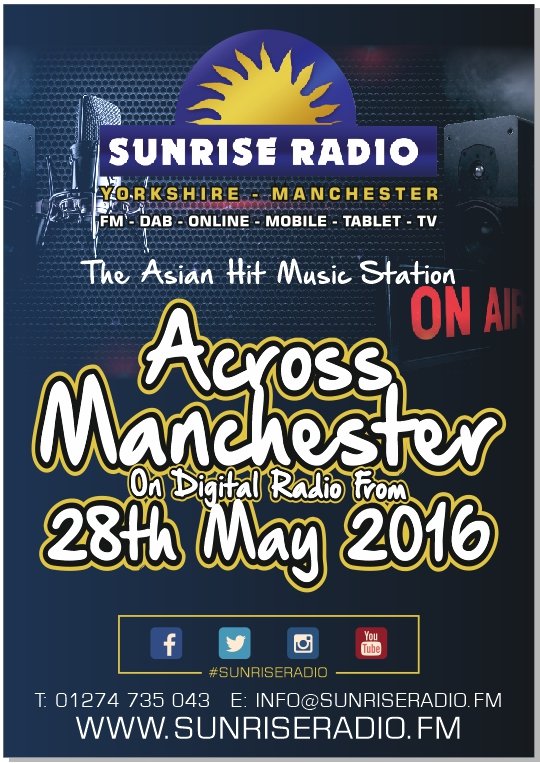 The Golden Era

The golden era of Bollywood celebrated in this weekly show full of classics taking you back in time. Every Sunday between 5pm - 7pm

Legal Show

Once a fortnight we dedicate a show to discussing legal issues and family / matrimonial law in particular. Alternate Friday mornings between 9am-11pm.

Alim OnAir

Have you a question about the religious, cultural or tradition aspect of Islam? Then join Hazrat Maulana Fazal Dad in the weekly show every Friday between 8-9pm.

Remix Saturdays

Every Saturday evening we turn to remixes of hit songs to get you in the Saturday night party mood! Every Saturday between 5pm - 8pm