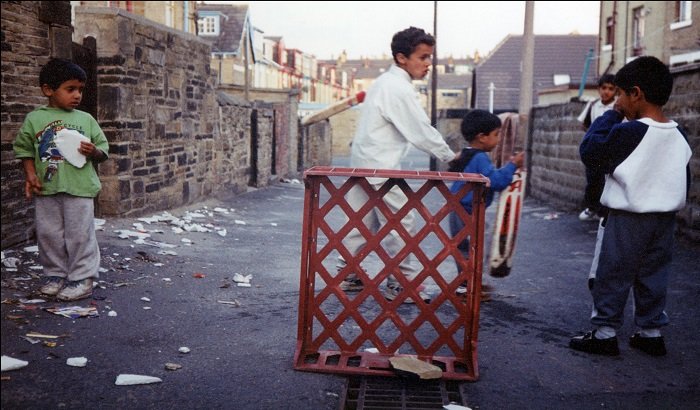 A photography exhibition illustrating the grass roots beginnings of Asian cricket in Yorkshire has been launched at the Yorkshire Cricket Museum at YCCC's Headingley.
The exhibition contains over 30 photographs, taken by cricket enthusiast Mohanlal Mistry, of back-street cricket being played in West Yorkshire in the early 1990s. It is part of the From Parks to Pavilions project which is documenting the history of Asian cricket in Yorkshire. The project was developed by the AYA Foundation, with support of the Yorkshire Cricket Foundation, the England and Wales Cricket Boards (ECB), and Bradford Local Studies Libraries, and funded by the Heritage Lottery Fund.

Mobeen Butt, the curator of the exhibition and Project Lead of the From Parks to Pavilions project said: "The photographs perfectly capture how young Asians played cricket in the 1970s, '80s and '90s. They didn't play on cricket grounds, in practice nets or even in parks - they played wherever they could, and that meant playing in alleyways, carparks and waste grounds. They played with milk crates, traffic cones and crisp boxes for wickets and would carve out a bat from pieces of broken floor board or fence".
Maria Hussain, one of the young people working on the From Parks to Pavilions project said: "My dad plays cricket, he's been playing ever since I can remember, probably before I was born. He plays for a club. The ground he plays on is really nice and green, and well kept. These young people in the photos played in very dirty and sometimes dangerous conditions. They played in the streets".
She added: "This exhibition is only a small part of our project. We've been to visit archives and museums. We've been to Lords, and we've been taught how to conduct oral history interviews and been on photography workshops. We will be producing a radio and video documentary and putting everything on YouTube for everyone to see!"
Mark Arthur, CEO of Yorkshire County Cricket Club and Lord Patel of Bradford, Director of the England and Wales Cricket Board (ECB) were at the launch of the exhibition.
Mark Arthur said: "With the Quaid-e Azam League continuing to go from strength to strength, and players such as Adil Rashid and Azeem Rafiq both playing in the First XI, Asian cricket has and will continue to play a major part in the rich history and heritage of Yorkshire County Cricket Club."
"An exhibition celebrating the history of Asian cricket in Yorkshire is long overdue and we were delighted to help launch it here at Headingley Cricket Ground. There is a real appetite for cricket in local Asian communities, as was demonstrated at the Fourth One-Day International when Pakistan supporters came in their droves and created such a vibrant atmosphere."

"Credit must go to Mobeen Butt and his team for beginning the arduous task of collating all the material and I would encourage all cricketing enthusiasts to contribute or take a look as it tours West Yorkshire in the coming weeks."

Lord Patel said: "We often hear people say that for Asians cricket is a religion, and playing the game is in our blood – an inherent part of who we are. I believe that this exhibition captures that sentiment perfectly."
"For me personally, it brought back many memories of my childhood experiences of playing this great game – it is so important that we do not forget this rich history, learn from it, understand it, build on it and all move forward – not just in Yorkshire but around the country."
The exhibition is planning to tour numerous indoor as well as outdoor venues around West Yorkshire.