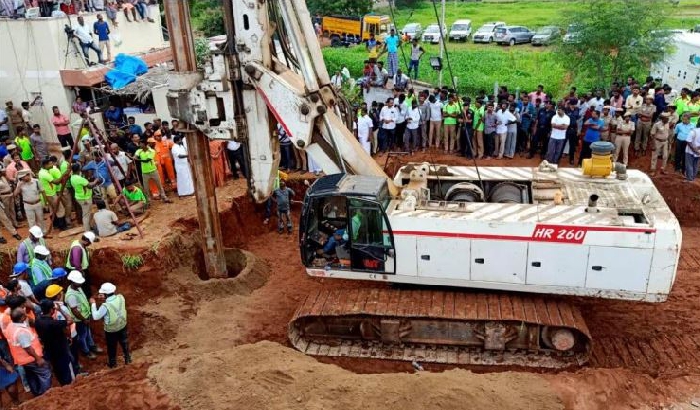 A major rescue operation to save a toddler stuck in a narrow well in India has gone into a fourth day.
Sujith Wilson, 2, was initially stuck at about 10m but has since fallen further into the 180m-deep well in the state of Tamil Nadu.
Rescuers are pumping oxygen to the boy, but layers of mud mean they cannot assess the child's condition.
They are now using heavy machinery to dig a second hole parallel to the one the child fell into.
Sujith fell into the abandoned borewell while playing with friends on Friday.
On Sunday, a second rig was brought in after a first one failed to dig a parallel borehole because the ground was too hard, although local reports have suggested the new rig is only making slow progress.
Speaking on the introduction of a second rig, reporters said: "A major reason for [the] very slow progress, is due to the rocky nature of the soil.
"Officials claim that they are continuing the drill in the same size as that space is required drop in rescue officials inside."
Since falling in the well, the boy's situation has garnered attention nationwide, with the hashtag Pray for Sujith trending on Twitter.